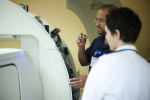 Finding the right OEM service partner
August 08, 2022
by
John R. Fischer
, Senior Reporter
For an original equipment manufacturer (OEM) to provide efficient service, they must know what the healthcare provider customer wants and needs, both now and in the long-term. Unlike traditional models that focused on break-fix support, service today should be customized to a facility's operational and care delivery requirements, both clinically and financially.

To achieve that, OEMs must know the role that each device plays for a provider, as well as understand the demands of its patient population, budget constraints and staff needs, and more. In fact, the more information the OEM has, the more personalized its service will be and in turn, the better the equipment will be to help the provider provide its desired level of care.

"Rather than just selling a service contract that fixes a device quickly, it's about aligning our service delivery to the outcomes that our customers are trying to achieve, like patient satisfaction and reducing operational costs," Matthew McCallum, vice president of service management for the United States for Siemens Healthineers, told HCB News.

At the same time, OEMs must be flexible and able to adapt services as technology advancements, shrinking margins, labor shortages, and other variables change the ways providers utilize equipment. Along with McCallum, HCB News sat down with a few OEM service leaders to discuss how they are addressing these challenges, as well as how manufacturers and providers can collaborate for service agreements that produce optimal outcomes for patients.

Knowing equipment's value
Make sure your OEM service partners know what resources and capabilities you need, and what you don't. For instance, a hospital with an in-house team may only require a plan for parts supply rather than one that incorporates labor as well. This not only saves the provider from paying for an extra service it does not need but gives the OEM an understanding of where it can best assist the organization.

"With us, customers can choose plans that provide only the capabilities they require. Examples of options include shared risk, labor only, and parts only," said Jatin Thakkar, general manager of global services and solutions at Carestream. "We also have 'as needed' services that include technology consultation, site planning, professional equipment handling and DICOM interoperability/integrating the healthcare enterprise services."

Deep dives into a provider's install base can help the service team understand the level of importance each piece of equipment plays in a facility's care delivery, allowing them to prioritize service requests based on the criticality of the system. In anticipation of that analysis, hospital department heads should discuss their needs with one another, as well as their risk tolerances, equipment uses and staffing requirements.

"What a biomedical group might need may not be aligned with the clinical team's needs within an organization, and the information security and technology teams might have distinct needs as well," said Rob Stevens, service operations leader for Philips North America. "The groups must all work together to make sure that the service deliverables fit the needs of the entire facility rather than just one department."

Service contracts should be updated regularly, with OEMs guiding providers on servicing needs throughout the entire lifetime of their equipment, including options for when it surpasses its end-of-life and is no longer serviceable by the manufacturer.

"Medical device life cycle management addresses topics like product security, software standardization, clinical education, workflow efficiency, and of course corrective maintenance," Stevens said. "Philips technology management plan services can help providers plan life cycle management strategies to ensure the equipment in their health delivery organizations reliably delivers the best clinical results for patients."

While usage can be extended, eventually all devices must be replaced. OEM servicers should facilitate this in an efficient and affordable way for the provider.

"When equipment reaches the point where it cannot be effectively serviced anymore, we will work with customers to find the best solution for them," said Mohamed El-Demerdash, president of healthcare services U.S. and Canada at GE Healthcare. "In some cases, this includes giving them low-cost upgrades to get their equipment up to a point where it can be serviced better."

Training in-house personnel
Shrinking margins have made providers more self-sufficient, adopting a do-it-yourself attitude for repairing equipment. As a result, many are increasingly relying on in-house service teams and training programs they develop for staff. Knowing what's beyond in-house capabilities enables manufacturers to tailor their agreements in ways where the provider can leverage their services fully where they are most needed.

"Many HTM healthcare organizations can manage about 70%-80% of their service events," said El-Demerdash. "When you start looking at that, you need to consider the parts of the service agreement that need productivity tools, special technology, and backup support. We will provide that for them."

It's no secret that many healthcare providers are currently experiencing a shortage of personnel that includes service technicians and biomeds. With many reaching retirement age, the U.S. Bureau of Labor Statistics predicts there will be 3,000 unfilled BMET positions by 2029. The COVID-19 pandemic has added further strain, contributing to earlier retirements and leaving providers struggling to fill vacancies.

New hires may not have access at their facilities to proper servicing training. As a result, providers should partner with OEMs that offer training programs, as well as courses in clinical education and product security requirements.

"In-house healthcare technology management teams are typically measured on improving repair quality and reducing the cost of service," said Stevens. "It is incumbent on OEMs to work closely with in-house service teams to support their quality and cost performance goals."

Training can be in-person, online, or incorporate both, with each format offering unique advantages. "Online training delivers highly affordable, self-paced learning, testing and tracking; and onsite classroom training at our technology and innovation centers feature state-of-the-art equipment and a small instructor-to-student ratio," said Thakkar.

Predicting servicing needs in advance
With remote monitoring technologies, OEM service teams can be alerted ahead of time when a device is at risk of breaking down or experiencing a setback. This allows them to address the issue proactively, mitigating damage and downtime, as well as potentially saving the provider time on costly repairs. GE Healthcare, for instance, utilizes its Tube Watch system to predict tube failure in CT scanners, and OnWatch to monitor critical components in CT, interventional, MR and mammography systems.

In some cases, fixes can be made over the phone or from behind a computer. In others, OEM servicers can use predictive AI to determine and inform providers of what the onsite technician will require for the job.

"This way, the technician is not starting from zero," said McCallum. "He has the parts and the action plan to follow, so we can fix it the first time rather than having to revisit."

In 2020, Canon Medical partnered with Glassbeam, an AI vendor that develops solutions for data and predictive analytics, to enhance its service capabilities. Utilizing machine learning, the company's Clinsights flags equipment at risk of breaking down. It also offers feedback on physician performance, physician referral and exam scheduling, and benchmarks practices against its competitors. Canon deployed the system across its install bases for CT, MR and vascular lab systems in the U.S. and credited the technology for helping its customers maintain effective operations during the pandemic.

"These analytics enable predictive maintenance, thereby maximizing customer uptime and customer satisfaction," Suresh Narayan, director of service life cycle and installed base for Canon Medical, told HCB News at the time. "Service operations are streamlined with the reports that Glassbeam analytics provide, enhancing operational efficiencies."

Canon also partnered with Barracuda for cybersecurity support and PartsSource to offer its customers access to parts distribution services.

"As the needs of healthcare institutions get more complex, it's essential that our service keep pace, and continue to provide our customers with the peace of mind that their systems are up and running properly and efficiently, with the parts they need, and that the systems, networks and patient information are secure," said Dominic Smith, vice president of service field and sales at Canon Medical Systems USA, in a statement.

Servicing end goals
With any service agreement, the goal is to maximize the effective use of the equipment in ways that lower a provider's overhead and help it build up its care capabilities. The long-term goal should be to establish service agreements, throughout the hospital or health system, that complement each other without creating vulnerabilities or unwanted redundancy.

"You have to look at the whole cost of servicing devices, not just the OEM costs, third party servicing costs and in-house costs," said McCallum. "If we are not looking across that whole continuum, then I think all of us are failing to drive costs down."

Staying on top of equipment updates is also critical, even when the technology has reached end-of-life. Philips' Stevens recommends providers seek out OEM partners that offer evergreen programs, which are designed to keep technology up to date.

"These evergreen programs extend the useful life of equipment while avoiding major upgrade requirements," he said. "In these instances, we are often able to fix a problem and update software remotely, sometimes in a matter of minutes."

Looking ahead, cutting edge capabilities will increasingly reshape the way medical equipment is serviced. "Traditional service will always be there as an essential component of this, but with new technologies and the advancement of AI algorithms, remote monitoring and the like, we will be able to personalize the service to the machine, to the hospital, to the assets," said GE's El-Demerdash.

As maintenance agreements move further away from the old break-fix contracts that are already shrinking in the rearview mirror, providers must establish clear communication with their OEM service partners. They should be upfront about their service expectations, and work together to customize agreements that enable them to effectively respond to changes.

"We understand that equipment needs are unpredictable, and we need to be ready to respond to all of them," said Thakkar.