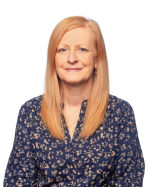 Survey results demonstrate importance of patient healthcare data sharing education
July 29, 2022
By Sara Bienvenu

In the last two years, drug development, treatments and healthcare in general have made incredible strides, thanks to the industry better understanding and utilizing the value of patient healthcare data. More specifically, the clinical data that is collected by hospitals and health systems during every patient interaction is leading to rapid innovation.

Because of the critical insights that can be gained from patient health data, this clinical data is essential to closing gaps in care, working toward achieving health equity and better patient health outcomes.

As the role of clinical data becomes more prominent, so too does the relevance of patients' knowledge of how healthcare data is being used. Understanding the value and potential of this data to better patient care and outcomes, Q-Centrix commissioned a survey to uncover patients' attitudes and beliefs toward the sharing of their data and how education around it can be improved.

The overall findings revealed an opportunity to educate patients on the significance of their healthcare data, not only as it relates to their own health but the health of others.

The collection of healthcare data
Understandably, there was some concern around personal data being shared, with 41.7% revealing they were "very" concerned and then another 44.7% were "somewhat" concerned.

When it came to what personal data they think is collected and shared in general, most respondents (86.6%) thought of generic things like names, phone numbers and addresses that are common in marketing initiatives; about half (51.6%) thought that health information was collected and shared. This makes sense when considering that 60.6% of respondents had never discussed how their healthcare data is used.

While these answers highlight an overall lack of understanding surrounding the collection and sharing of healthcare data, they also present a great opportunity to educate patients on the power of sharing data.

Understanding healthcare data's value
Healthcare data is essential to the direction of patient care; it is often used to support continuity of care and personalized healthcare. Nearly half of respondents (45.9%) agreed that the sharing of healthcare data was important.

Looking at specific situations where healthcare data may be shared, 70.8% of respondents were happy to share their de-identified data if it meant it would be used to improve their own healthcare. 61.7% said they would share it for the betterment of clinical research; 59.6% to improve hospital services; 56.7% to improve other patients' healthcare and 52.3% said they would share the information to advance healthcare equity and identify disparities.

The educational opportunity around sharing de-identified data is further shown with half (49.7%) of respondents indicating they would be comfortable with their de-identified electronic medical data being shared for patient care and research purposes. Beyond that, 25.4% were not comfortable with it and another 24.9% were unsure.

These findings make it clear that there is a gap between a patient's understanding of the personal benefits of their healthcare data and their healthcare data's value. What can be learned from one patient's health experiences might be instrumental in the care of another. Sharing data stands to help more people receive the best care possible; these findings indicate an opportunity for the healthcare industry to make this more widely understood.

A need for education and trust
Some of the concern around sharing de-identified data might be caused by a combination of a knowledge gap on why the sharing is so beneficial, and a mistrust in organizations properly handling their data.

Highlighting the lack of education, 42.9% of respondents believed that the widespread use of healthcare data was beneficial in achieving equitable healthcare, with 23.7% believing it was not and 33.4% remaining unsure.

Education will be key in assuring patients that their data is accurate and in good hands. Only 48.8% of respondents were confident that their electronic medical records were accurate and 28.4% believed organizations are doing everything possible to ensure their healthcare data is protected.

Greater transparency into organizations' healthcare data sharing will be instrumental in earning patient trust, as the survey found that 70.6% respondents are comfortable sharing their data with healthcare providers that have treated them directly with less enthusiasm for medical organizations (43.7%), government organizations (42.2%), healthcare providers who have not treated them directly (32.2%) and insurance companies (29.3%).

The message is clear: patients need to be assured that their data is going to be handled safely and securely. Right now, the default sentiment appears to be one of caution over their data. Hospitals and health systems have to make a meaningful effort to further educate their patients on the data's value and security if they hope to change this existing perspective.

Putting it all together
This survey demonstrates an opportunity for health systems. It is time to broaden patient education on health data sharing to highlight how transformative health data sharing can be for the healthcare landscape and fellow consumers. Their data will lead to better, more personalized care, improved hospital services and the advancement of healthcare equity. Data sharing is undoubtedly the future of medicine.

About the author: Sara Bienvenu is an RN and manager of clinical quality growth at Q-Centrix.