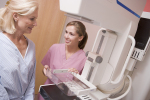 Annual mammograms before 50 may decrease risk for advanced cancer diagnoses
August 18, 2022
by
John R. Fischer
, Senior Reporter
Screening women in their 40s annually may decrease the number of advanced breast cancer cases seen after age 50.

Lower proportions of stage II, III and IV breast cancer were found in Canadian women between 40 and 49 in provinces that performed annual mammograms, compared to those that did not. Fewer cases of stage II and III were also found in women between 50 and 59 in these same regions, according to researchers at the University of Ottawa.

Despite evidence showing that early detection improves survival rates, Canadian provinces each have different policies for screening women starting at age 40 or 50. During the study period (2010-2017), British Columbia, Alberta, Northwest Territories, Nova Scotia and Prince Edward Island issued annual screening reminders to women in their 40s. Today, only Nova Scotia, Prince Edward Island and Yukon do this.

The study is the first Canadian one to show the effects of different screening policies on women in these age groups.

"Women who are not screened in their forties are presenting with later-stage breast cancer in their fifties. This means more intensive treatment and a worse prognosis for these women than if their cancers were diagnosed at an earlier stage," said co-lead author Dr. Anna Wilkinson, an associate professor in the Faculty of Medicine at the University of Ottawa.

Wilkinson and her colleagues assessed data on 55,490 women between 40 and 59 from the Canadian Cancer Registry. Following changes to Canadian guidelines in 2011 that recommend against screening forty-something women, stage I cancer incidents decreased by 13.6%, but those at stage II rose 12.6% for this age group.

Stage II cancer incidents increased 3.1% over the same period for fifty-something women. In provinces where annual screening is not available between 40 and 49, stage IV breast cancer rates rose 10.3% among those between 50 and 59.

More advanced cancer diagnoses lower chances of survival. The researchers found that the five-year survival rate for stage I breast cancer was 99.8%, compared to 23.2% at stage IV. This may indicate a greater need for more intensive treatments and surgeries for the latter.

"Our findings align with recently updated USA National Comprehensive Cancer Network guidelines that recommend annual screening mammography for average risk women beginning at age 40," said Dr. Jean Seely, head of breast imaging at The Ottawa Hospital and professor at University of Ottawa's Faculty of Medicine.

The study was published in Current Oncology.