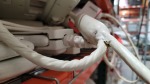 Tips for MR coil maintenance
September 14, 2022
by
Lisa Chamoff
, Contributing Reporter
Coils may seem like small parts of an overall massive MR scanner, but keeping coils in good shape is critical to high-quality imaging. They are also prone to breakage and can be costly to repair.

Innovatus Imaging analyzed data after repairing more than 37,000 coils and found that over 37% had preventable damage and an additional 18% had issues that were related to preventable damage.

We asked a group of service professionals about the coil repair or service issues that they most commonly see and the top things that technologists can do to prevent these issues.

Problem: Broken cables and broken or misaligned connectors

With cable issues, users typically begin to experience RF signal dropout, system ID failures and/or bias control voltage failures, said Nate Barczykowski, production manager at Innovatus Imaging. The results begin to present as image artifacts and ultimately QC failures. Cable replacements from the OEM, if available, are extremely costly, with some approaching $15,000.

Solution: Proper handling and storage

Unplug the coils after use and do not wrap the cables around the coil, said Vinod Palathinkara marketing director for service at Philips. Once the coils are unplugged, put the caps in the connectors.

Pay close attention to the insertion and removal of the coil connection to prevent damaging the pins, said Kurtis Waddell, growth marketing manager for DirectMed Parts & Service.

"Slowly insert and properly align the connection," Waddell said.

Always pick up the coil by its body and not the cable, said Renee Jones, director of operations at Altima Diagnostic Imaging Solutions.

Store the coils properly. If you're using a coil cart, each coil should have a place in the cart, Palathinkara said.

"Often the coils are placed on a table or flat surface and they can easily slide and fall when the table is bumped," Palathinkara said. "The fall can break the coil body. If the pins or positioning guides take a hit, they can break and often require the replacement of the whole coil body. Flexible coils have thin wires and delicate circuitry within them. They can be wrapped around the body, but are not designed to be folded in half like a piece of cloth. People often place them on a surface and place heavy objects on top of the coil. These coils do not have any field-replaceable components and any damage can result in coil unavailability for use."

Head coils and neurovascular arrays are usually multipiece designs and it's important for technologists to separate the various coils' sections using straight motions, Barczykowski said.

"For a head coil, the anterior portion should always be removed by pulling straight up," Barczykowski said. "If the anterior is removed at an angle, the fragile connections between the various sections could easily become damaged or fail prematurely."

Problem: Broken coil body

Solution: Using only approved and recommended cleaning solutions and procedures and proper handling

"Using unapproved cleaning solution could weaken the coil body and make it prone to breaking," Palathinkara said.

Barczykowski notes that traditionally, the infection control and supply chain departments determine what chemicals and disinfectants are chosen based on efficacy and cost, not product compatibility.

"Looking at several popular brands of disinfectant wipes found in healthcare facilities, the intended use is 'disinfection of hard, nonporous surfaces,'" Barczykowski said. "Cables, strain reliefs, and flexible foam coverings are anything but hard and non-porous. Even within the scope of approved chemicals, there are those which are more device-friendly than others. If facilities are experiencing what they believe to be premature wear to the physical components of their MR coils, it may be time to assess the chemicals in-use in the MR suite."

Proper handling is also key. Technologists should not place coils down inside the bore.

"Techs too often forget they've placed it there, and as the height of the table gets adjusted, the coil gets cracked in the process," Jones said.

Problem: Stress fractures and tears in flex coils

Solution: Use coils properly

When using a flex coil, it's important for technologists to never attempt to adjust the position of the patient by moving the coil, as it may cause both physical and internal electromechanical damage, Barczykowski said.

Problem: Contrast left in the socket groups

Solution: Don't allow contrast to get into the socket group

"It dries like cement," Jones said.