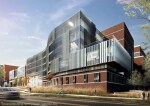 Medical College of Wisconsin sets to work on $100 million cancer research facility
September 16, 2022
by
John R. Fischer
, Senior Reporter
The Medical College of Wisconsin has started work on a 150,000-square-foot building that will eventually become a hub for cancer research and procedures.

The beginning of construction was celebrated in a groundbreaking ceremony at the Milwaukee Regional Medical Center.

The MCW Cancer Research Building is slated to be the only cancer-dedicated research facility in Milwaukee and eastern Wisconsin, and will bring together the college's nearly 700 researchers, spread out across 135 labs campuswide.

The cost of construction is approximately $100 million, with the State Building Commission approving $10 million for the facility in August 2022. It is expected to be completed by late 2024.

"The MCW Cancer Research Building will serve as a hub for cancer innovation and bring together the brightest minds to forge innovations that will address the cancer burden impacting patients and families in eastern Wisconsin and beyond," said MCW President and CEO Dr. John Raymond Sr. in a statement.

The Medical College of Wisconsin Cancer Center performs over 200 clinical trials and community-driven interventions annually. The new building will allow it to attract top-quality research talent, donors and community members and address more disparities in cancer care among underrepresented groups.

According to the Centers for Disease Control and Prevention, rates for cancer incidence and mortality are higher than the national average in Wisconsin, and disparities are also up there for geographic and racial and ethnic minorities.

It also will free up more space for conducting cancer research projects for improving health outcomes with community partners and research participants.

"The new cancer research building at MCW will be the place where diverse ideas and people intersect with state-of-the-art instrumentation and technology to solve the greatest challenges in cancer and bring palpable solutions to patients and our community," said Gustavo Leone, director of the MCW Cancer Center and the Dr. Glenn R. and Nancy A. Linnerson Endowed Chair for Cancer Research.