By Michael Friebe

EMPOWERING PATIENTS AND PARTNERS IN CARE — great slogan … and happens to be also close to the subtitle of my new book that should be available this week as well … apologies for starting off with a personal advertisement. But as you know readers typically remember the beginning and the end of an article …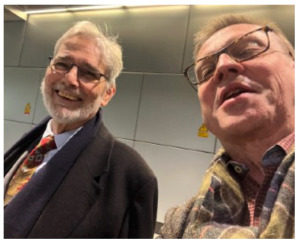 LH 430 on Saturday from Frankfurt was packed with RSNA attendees. On the way to the gate I met Andreas Martin from RADPRAX in Wuppertal, who will stop his active role at the end of the year. Impressive person and impressive knowledge and foresight! He - together with his partner in crime Heiner Steffens, who I met later at the show as well - were my first ever mobile MRI customer (Diasonics / Toshiba 0.35T - who remembers that one?) in 1994. What a setup that was with a several hundred meter long power cable across the river on the parking lot of the opera. Wish you all the best for your retirement and thanks for all the encounters over the last almost 30 years.
And just like last year … pretty nice weather (exception Sunday Morning) and decent temperatures without the need for heavy coat, gloves or hat. Immigration used to have the terminals … gone! But still took only about 10 minutes to clear everything and off I went to the train station taking the BLUE LINE downtown (USD 5 one way). I did not feel to well on the first day though and went to a Walgreen to buy supplies … this and 11 hours of sleep helped significantly (best sleep ever after a transatlantic flight) to recover and be ready for the show.
I cannot put a number on the attendance - obviously more than last year and less than 2019. My feeling is that it was at about 75% level. Meeting halls were not completely filled and the booth size of the big companies not quite as large as I remember them from several years ago.
Quick update on my activities and eating-out activities for my long-time readers:
I typically walk in a spiral pattern from the outside to the inside hoping to see more disruptive or at least novel weird product offerings on the outside. The more you make it to the middle part the more you reach the big business and realistic business models. Disruption always comes with new and unpredictable business models. The large companies and their customers need to maintain these existing setups and workflows as long as possible. Absolutely understood! But they also need to rethink on whether the global health can continue with the same understanding in the future. Diagnostic imaging for sure needs to become better, but these incremental innovations should not only be benefitting the hospital or the radiologist, but also the patient globally.
I do not really recall when the first MR-PET / PET-MR systems were shown at RSNA, but these type of systems combining modalities that only provide benefits for a very small population, but carry a huge price tag have not really been successful offerings. The same - in my opinion - is true for MR-LINAC or other very complex and expensive systems. There will be a market for those in few central locations, but unlikely will become mainstream or standard of care. And I believe that this is good that way!
Having said this you see a clear shift - across all the major OEM - from previously showing almost exclusively hardware to now become diagnostic solution enablers and workflow improvers with their software and AI offerings. All of that was to be expected and a foreseeable and necessary development. This software focus will extend in the near future and be combined with wearables or other sensor devices that will provide health data input towards more predictive, personalised, and preventive health offerings.
Software, health data and analytics will work together with these sensors … and lets face it a lab report, genetic information, an ultrasound, or a MRI image are such sensors that need to be evaluated in a combined fashion for a really comprehensive diagnosis.
I am sure that the input and guidance from a real human doctor will change, but become more individual and with that even more important.
What I am looking for is the new breakthrough technology or (even better) a system that would lead to health business disruption and to health democratisation.
That would require a system or product that is replacing existing expensive technologies (being able to answer the main diagnostic questions sufficiently well or open up new opportunities) with a price tag of 10% of the current product offerings. Of course - just like the last 30+ years I did not really find anything that meets these criteria. It is a little bit like in the car industry … you kind of know what the next generation VOLKSWAGEN GOLF will look like or where the improvements likely will be - and they are almost always combined with an increased price tag ☹
No doubt there will be much much more coming and also sure that there will be some consolidation in the very near future.
You also saw the huge focus on AI for reconstruction, noise reduction, image enhancement, patient positioning and protocol selection as part of the image acquisition in the booth offerings of the large OEM. The presentation focus is in the meantime clearly on "monitors" rather than on the physical product showcase.
So now to the bad (or rather disappointing) news: I did not find anything that really excited me (but based on my above mentioned criteria) or that I did not expect to be presented anyway. This years RSNA was going back to normal, networking, having fun, walking the booth, and occasionally listen to the semi-exciting news about novel product innovations.
I was also very surprised about the large number of cone beam CT systems - for orthopaedic weight bearing applications (see PLANMED Full Body - see below - and CURVEBEAM), for general radiology (iCRco) in a trailer (!!), or for lung-screening installed in a mobile unit (XORAN) — exciting for me as a former operator of mobile diagnostic imaging systems.
Ohhh, I did not talk about the novel offerings of the big vendors. Well, nothing that I believe is really worth mentioning in my personal and subjective report. SIEMENS HEALTHINEERS introduced three new MRI systems, with three weird and complicated names that neither reveal the field strength nor their value proposition. But that is marketing! By the way the third one that was not shown before is the Cima.X … ask your local representative for the details.
Of course GE, PHILIPS and SIEMENS showed plenty of enhancements, improvements, detail solutions, more or less useful gadgets … but all to be expected from innovation leaders. PHILIPS showed a Spectral CT Angio combination (remember my comments at the beginning), and GE presented the new ALLIA angio suite on a robot system with a AR control and intuitive and innovative software solution (picture at the bottom).
Dear OEM please apologise for not mentioning your innovations properly and for being so focussed on more disruptive solutions. I am quite aware that you are following the business and that your incremental innovations are valuable and needed. But they can be better communicated and presented by your product experts and sales representatives.
I am slowly getting to the most important part of this report — who will win the annual Michael Friebe booth prize. This year I actually decided that there should be two winners and for different reasons.
So here we go …
BOOTH PRIZE — TWO WINNERS!!!
Congratulations CANON (first time winner) and GE (won before, do not know how many times).
CANON: novel design with a curved center path following the modalities to the central element - IT / SOFTWARE / AI. Very interesting and intuitive design.
GE: very open design, inviting, coffee place in the center with comfortable auditorium, clearly organised.
I additionally liked the separate area demonstrating the work that GE invested in optimizing a WOMENS HEALTH workflow to reduce SCANCIETY (anxiety before going to a breast examination and the associated waiting time till a clear diagnosis - including biopsy and pathology - has been communicated). Really nicely done. And the third reason for GE was the individualized coffee (see picture) - I talked to the operator who told me that by Tuesday evening they had already served 3.500 of those.
SIEMENS HEALTHINEERS was structured and laid out very well and also quite open. Maybe a little too structured for me. But still the 3rd place!
I also liked the HOLOGIC and BAYER booth … open and colourful. Congratulations!
And the last words and pictures are left to the main reason for me to go to the RSNA:

To nurture and expand the network of friends, and collaborators.

Thank you for meeting with me and exchanging ideas.

On my way to O'Hare now to catch LH 431 back to Frankfurt!

I am already looking forward to 2023 for my 33rd visit.

Please stay in touch and lets meet at the 2023 RSNA in Chicago.