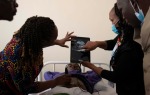 Butterfly Network deploys 500 iQ+ ultrasound devices across 224 facilities in Kenya
December 23, 2022
by
Gus Iversen
, Editor in Chief
Butterfly Network has trained over 500 local mid-level healthcare practitioners across hundreds of facilities in Kenya to use its Butterfly iQ+ handheld ultrasound devices to curb maternal mortality from pregnancy and childbirth-related complications.

The program, part of a larger effort supported by a $5 million grant from the Bill & Melinda Gates Foundation, aims to equip 1,000 healthcare workers in sub-Saharan Africa with the company's whole-body ultrasound probe to advance maternal and fetal health.

Ten cohorts, comprising 514 practitioners in total, have completed training and will bring free point-of-care ultrasound assessment back to 224 public health facilities across eight Kenyan counties, as well as two urban facilities and three training institutions in Nairobi. These facilities, predominantly in rural settings and without access to broadband, are the safety net for hundreds of thousands of patients in the community, the majority of whom never before received ultrasound during their pregnancy.

Initial data signify an impressive adoption rate, as demonstrated by tens of thousands of scans completed since the program launch, and a one-month post-training survey finding that over 90% of respondents have identified a high-risk condition using the Butterfly iQ+.

"The program has been a remarkable exhibition of the power ultrasound information offers when made portable, accessible, and usable through advanced technology and focused, hands-on training," said Dr. Kevin Bergman, CEO and co-founder of the Global Ultrasound Institute (GUSI), the partnering organization that executed the in-country training. "Within just a few days of receiving a Butterfly and going through the training, participants were in clinics identifying and taking action on high-risk conditions, such as multiple gestation, breech presentation, and placental abnormalities. It's the insights unlocked through ultrasound that allowed lifesaving interventions to be made confidently and early in the course of care."

All of the distributed Butterfly devices and tablets were pre-loaded with educational material to provide continued learning and advancement content at no cost.

The company expects to launch the second phase of its deployment under the same Bill & Melinda Gates Foundation grant in the first half of 2023, with plans to bring an additional 500 Butterfly iQ+ devices to healthcare practitioners in South Africa.