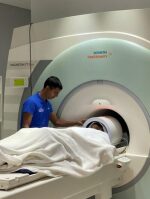 What can 7T MR tell us about the brains of long COVID patients?
March 20, 2023
by
John R. Fischer
, Senior Reporter
With an ultrahigh-field 7T MR scanner, researchers at Griffith University in Australia have shown long COVID-19 affects the brain in a way similar to myalgic encephalomyelitis/chronic fatigue syndrome (ME/CFS), indicating that the two conditions could derive from a common cause.

ME/CFS is a condition that causes extreme tiredness, making it difficult to complete daily activities and potentially leading to memory problems and trouble sleeping. The exact cause is unknown, and there is no cure, but treatment is available.

Around the world, 43% of those infected with COVID-19 experienced post-COVID conditions, according to an April 2022 analysis by the University of Michigan School of Public Health that looked at data from 50 studies and 1.6 million people. Fatigue (23%) and memory problems (14%) were cited as the most common symptoms of individuals with post COVID-19 condition, or long COVID, which are similar to symptoms found in ME/CFS.

"We have previously reported significant ion channel dysfunction in ME/CFS which were similar in long COVID patients compared to healthy control," Dr. Kiran Thapaliya, a research fellow at Griffith's National Centre for Neuroimmunology and Emerging Diseases, told HCB News. "Furthermore, we also showed that Low Dose Naltrexone (LDN) is beneficial to ME/CFS patients. Therefore, these findings may fast-track the treatment of long COVID based on our ME/CFS findings."

Using a Siemens Healthineers MAGNETOM 7T Plus scanner, the researchers found brainstems were significantly larger in ME/CFS and long COVID-19 patients. Similar brainstem volume may help explain why long COVID patients show the common core symptoms of ME/CFS. They also found that smaller midbrain volumes were associated with more severe breathing difficulties in both cohorts of patients.

"7T MR is playing a bigger role in research because this powerful scanner provides crisp images, better visualization of smaller brain anatomical structures, and potentially uncovers abnormalities in the brain areas that might not be detected in other MRs," said Thapaliya.

The scanner is one of two 7T systems in Australia.

The researchers are expanding their study to a larger cohort, and also planning a longitudinal study for it.

The findings were published in Frontiers in Neuroscience.