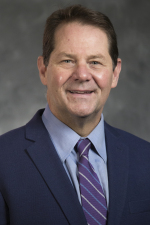 Erik Paulson
May 29, 2023
Honolulu, HI | April 16, 2023—Erik K. Paulson, MD, chair of the radiology department at Duke University, has been named the 123rd President of the American Roentgen Ray Society (ARRS) during the opening ceremony of the 2023 ARRS Annual Meeting in Honolulu, HI.

"I am absolutely honored and delighted to serve as the President of our country's oldest radiology society, a society whose sweet spot is member education," Dr. Paulson said in his ARRS Annual Meeting opening remarks at the Hawaii Convention Center on the island of Oahu.

"It takes a team, though," Dr. Paulson acknowledged. And joining him are the following newly elected ARRS officers for 2023–2024: Angelisa M. Paladin, President-Elect; Deborah A. Baumgarten, Vice President; and Christine M. Glastonbury, Secretary-Treasurer.

"ARRS has an exciting program planned for this year, with over 135 sessions, more than 220 hours of available CME credit," Dr. Paulson continued. "Our faculty are uniformly outstanding, hailing from great institutions throughout the United States and, indeed, the world."

Dr. Paulson succeeds Gary J. Whitman, who served the society ably and honorably as its most recent President from 2022 to 2023.

A longtime and active ARRS member, presently, Erik Paulson, MD, chairs the Gold Medal Nominating Committee and sits on both ARRS' Executive Council and board of trustees for The Roentgen Fund®. Contributing to four high-profile ARRS committees—Education, Finance and Budget, Professional and Practice Improvement, Science and Innovation—he also serves on the society's Resident Advisory Subcommittee and remains the ARRS representative for the Academy for Radiology & Biomedical Imaging Research.

Erik K. Paulson, MD, Robert Reeves Professor with tenure and chair of Duke University's department of radiology since 2013, has a distinguished career that includes important leadership roles and groundbreaking achievements in research and patient care. Committed to clinically driven research, Dr. Paulson has published extensively, including some 200 peer-reviewed publications. These publications reflect a sustained focus within three major areas of interest: hepatic cross-sectional imaging, CT technology assessment, and image-guided intervention. His work reflects collaboration within the department of radiology, as well as with colleagues from the medicine, pathology, and surgery departments. A national leader in abdominal imaging, Dr. Paulson's leadership and expertise in hepatobiliary and pancreatic imaging has significantly impacted the way these disease processes are evaluated. He is considered a pioneer in the development of CT colonography. Most recently, Dr. Paulson has implemented state-of-the-art dual-energy CT and enhanced ongoing efforts to reduce radiation dose in CT. He serves as a mentor for residents, fellows, and junior faculty. Dr. Paulson's work has won awards of excellence from ARRS, as well as the Radiological Society of North America, Society of Computed Body Tomography and Magnetic Resonance, and the Society of Gastrointestinal Radiologists. Recently elected to the board of directors for the Society of Computed Body Tomography and Magnetic Resonance, currently, he is President of that prestigious society. Dr. Paulson earned a bachelor of science (Phi Beta Kappa) in molecular, cellular, and developmental Biology from the University of Colorado and his MD at Duke University's School of Medicine. Following an internship in internal medicine at Duke, chief residency in radiology at the University of Utah, and a fellowship in abdominal imaging also at Duke, in 1991, Dr. Paulson joined the faculty of Duke University in Durham, NC. He was inducted into the honorary society Alpha Omega Alpha as a faculty member. Previously, Dr. Paulson was chair of diagnostic radiology at MD Anderson Medical Center, until returning to Duke in 2013.


About ARRS
North America's first radiological society, the American Roentgen Ray Society (ARRS) remains dedicated to the advancement of medicine through the profession of medical imaging and its allied sciences. An international forum for progress in radiology since the discovery of the x-ray, ARRS maintains its mission of improving health through a community committed to advancing knowledge and skills with the world's longest continuously published radiology journal—American Journal of Roentgenology—the ARRS Annual Meeting, InPractice magazine, topical symposia, myriad multimedia educational materials, as well as awarding scholarships via The Roentgen Fund®.