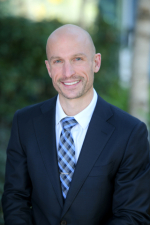 Conrad Band
May 31, 2023
LOS ANGELES--(BUSINESS WIRE)--Conrad Band has been named permanent Senior Vice President and Chief Information Officer (CIO) at Children's Hospital Los Angeles (CHLA). He has held the CIO role in an interim capacity since May 2021.

Band will continue providing vision, strategy and direction for information systems and technology throughout the CHLA enterprise. He oversees all CHLA Information Services (IS) teams—IT Operations; Infrastructure; Technology Training and Adoption; Information Security and Applications—as well as key vendors that provide technology solutions for CHLA. In addition to leading deployment, improvement and streamlining of IS resources, policies, procedures and standards to achieve CHLA's clinical, operational and business needs, he partners closely with research, academic and data leadership to collectively drive strategic utilization of data and supporting technologies; leads enterprise-wide communications on the progress and performance of IT initiatives; and oversees planning to enhance and support clinical and business applications, cybersecurity, voice (phone), and other network infrastructure and services.

"Being named to the permanent Chief Information Officer role is a testament to Conrad's contribution and leadership throughout his tenure at CHLA," says Lara Khouri, MBA, MPH, Executive Vice President and Chief Operating Officer at Children's Hospital Los Angeles. "Conrad is a forward-thinking technology champion and leader who works tirelessly to ensure effective, efficient and secure operation of CHLA's information systems, without which we would be unable to further CHLA's mission of creating hope and building healthier futures for our patients."

Band joined CHLA in 2017 as Chief Information Security Officer, where he worked to create a security ecosystem that not only protects the hospital's valued patients and clinicians but also utilizes the latest technology to improve operations and enhance clinical outcomes. He took on the interim CIO role in the middle of the COVID-19 pandemic, and under his leadership the IS team has been able to support the organization in innovative and collaborative new ways, including remote work and expanded telehealth capabilities.


About Children's Hospital Los Angeles
Children's Hospital Los Angeles is at the forefront of pediatric medicine, offering acclaimed care to children from across the world, the country and the greater Southern California region. Founded in 1901, Children's Hospital Los Angeles is the largest provider of care for children in Los Angeles County, the No. 1 pediatric hospital in California and the Pacific region, and is consistently ranked in the top 10 in the nation on U.S. News & World Report's Honor Roll of Best Children's Hospitals. Clinical expertise spans the pediatric care continuum for newborns to young adults, from everyday preventive medicine to the most medically complex cases. Inclusive, compassionate, child- and family-friendly clinical care is led by physicians who are faculty members of the Keck School of Medicine of USC. Physicians translate the new discoveries, treatments and cures proven through the work of scientists in The Saban Research Institute of Children's Hospital Los Angeles—among the top 10 children's hospitals for National Institutes of Health funding—to bring answers to families faster. The hospital also is home to one of the largest training programs for pediatricians in the United States.