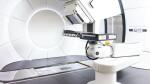 In a first for Switzerland, researchers treat esophageal cancer with proton therapy
August 18, 2023
by
John R. Fischer
, Senior Reporter
For the first time in Switzerland, proton therapy has been applied to treat an esophageal tumor as part of a European Phase III clinical trial involving multiple institutions investigating the suitability of the treatment and if it reduces complications to surrounding organs.

The Paul Scherrer Institute (PSI) and University Hospital Zurich (USZ) treated a 67-year-old with a Siewert type II tumor on August 15 and will continue treatment over the next five weeks. They will treat 20 patients in total as part of their research for the pan-European PROTECT trial (PROton versus photon Therapy for Esophageal Cancer: a Trimodality Strategy), centered around comparing side effects between photon radiotherapy and proton therapy for esophageal cancer treatment.

In conventional radiotherapy for this form of cancer, complications often arise in the lungs, which are next to the esophagus, potentially leading to pneumonia or other problems. This makes surgically removing tumor residue and surrounding lymph nodes — often the next step for ensuring the best possible outcomes — and postoperative recovery more challenging. Because proton therapy typically inflicts less damage to nearby healthy tissues, the researchers believe it may reduce these side effects.

"If our hope that proton radiotherapy can offer advantages in the treatment of esophageal cancer can be confirmed, this type of tumor could be placed on the Ministry of Health's indication list. This would mean that medical insurers would cover the cost of proton therapy for esophageal cancer in the future," said Damien Weber, senior clinician and head of the Center for Proton Therapy (CPT) at PSI, in a statement.

PSI is one of the study initiators in Europe for the PROTECT trial, which consists of 18 other universities, hospitals, and research centers. Coordinating it is Aarhus University in Denmark. Together, all 19 will evaluate treatment in nearly 400 patients with non-metastatic esophageal cancer, with each receiving some form of radiotherapy, combined with chemotherapy, followed by tumor removal six to twelve weeks later.

In Switzerland, USZ will treat half with photon radiation, while PSI treats the others with protons.

In a 2021 study, Aarhus University researchers found pencil beam scanning in proton therapy for esophageal cancer made it more robust against anatomical changes and made respiration better than intensity-modulated radiotherapy. Their findings were published in the International Journal of Radiation Oncology, Biology, Physics.

U.S. researchers are also studying the potential of this treatment for esophageal cancer. In 2022, Loma Linda University Health scientists in California found that when combining proton therapy with chemotherapy, more patients showed no detectable traces of cancer and had their health preserved as much as possible before tumor removal. This study is ongoing.