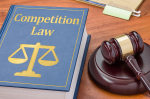 Oncologist pleads guilty to role in illegal allocation of cancer care services
August 31, 2023
by
John R. Fischer
, Senior Reporter
Oncologist Dr. William Harwin, who served as president and managing partner of Florida Cancer Specialists & Research Institute, admitted his role this month in a 17-year conspiracy that allocated radiation therapy and chemotherapy services to reduce the company's competition at the expense of providing patients with quality integrated care options.

According to documents filed in the U.S. District Court in Ft. Myers, Florida, from 1999 to 2016, FCS was engaged in an illegal deal with another competing oncology group in Collier, Lee, and Charlotte counties of Southwest Florida, where chemotherapy treatments were allocated to FCS and radiation treatments to the other group.

Harwin pled guilty to one count of violating Section One of the Sherman Antitrust Act of 1890, which prohibits anticompetitive behavior.

"This long-running criminal conspiracy denied cancer patients access to a competitive marketplace for lifesaving oncology treatments," said acting director of criminal enforcement Emma Burnham of the Justice Department's Antitrust Division, in a statement.

FCS was charged in April 2021 for participating in the scheme, entering into a deferred prosecution agreement whereby it admitted to conspiring to allocate chemotherapy and radiation treatments for cancer patients and agreed to pay a $100 million criminal penalty.

It also said it would cooperate fully with the Antitrust Division's ongoing investigation, would maintain an effective compliance program to prevent and detect criminal antitrust violations, and signed a noncompete waiver, where it agreed not to enforce noncompete provisions with current or former oncologists and other employees who open or join an oncology practice in Southwest Florida during the term of the deferred prosecution agreement.

The court will set a date for Harwin's sentencing, which will be imposed by a federal district court judge in accordance with U.S. Sentencing Guidelines and other statutory factors.