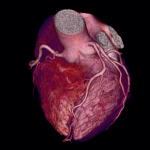 Imaging May Predict Likelihood of Heart Attack
May 28, 2008
CT scans help identify those who are at risk for heart disease, researchers at UT Southwestern Medical Center say.

In findings published in Archives of Internal Medicine, researchers found that the additional imaging increased the number of patients classified at "high risk" by 27 percent.

It was recommended that these patients begin taking cholesterol-lowering drugs.

"Whether increased imaging of patients will be cost effective in the long term remains to be seen," Dr. James de Lemos, associate professor of internal medicine at UT Southwestern and the study's lead author said in a press release.

Coronary calcium scans use CT to scan the heart and look for calcium deposits and blockages. Calcium buildup can lead to atherosclerosis, a metabolic and inflammatory disease that causes plaque to accumulate in the arteries.

Current guidelines identify three categories of risk based on a person's likelihood of developing cardiovascular disease--including heart attack and stroke--in the near future. People are categorized as: high risk, moderately high risk and low to moderate risk.

High-risk individuals are those who have already had a heart attack; chest pain (angina); previous angioplasty or bypass surgery; obstructed blood vessels to the arms, legs or brain; diabetes or a collection of other risk factors that raise the likelihood of having a heart attack in the next 10 years by more than 20 percent.

The research was conducted as part of the Dallas Heart Study of more than 6,000 patients in Dallas County. The study aims to gather information to help improve the diagnosis, prevention and treatment of heart disease.