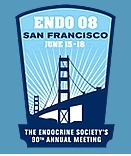 Testosterone Replacement Benefits Older Men With Low Levels of the Hormone
June 17, 2008
Testosterone replacement benefits older men, two studies presented at The Endocrine Society's 90th annual meeting in San Francisco have found.

The first study showed that restoring testosterone to normal levels in hypogonadal, or testosterone-deficient men, led to major and progressive improvements in features of the metabolic syndrome.

All 95 men in the study (ages 34 to 69 years old) suffered from the metabolic syndrome. To receive this diagnosis, patients must have had three of the following risk factors: increased waist circumference (abdominal fat); low HDL cholesterol; high triglycerides; high body mass index; high blood pressure or high blood sugar.

Furthermore, men older than 63 benefited from treatment with testosterone as much as younger men, the study found. Treatment lasted a year using a slow-release, injectable form of the hormone, not yet available in the U.S.

Testosterone treatment significantly reduced waist circumference, total cholesterol, LDL ("bad" cholesterol), triglycerides and body mass index. Treatment also increased "good cholesterol", the study found.

What is more, improvements were progressive over 12 months, indicating that benefits may continue past one year, said Farid Saad PhD, a researcher at Bayer Schering Pharma, the German drug company that financed the study.

In the second arm of the study, researchers divided the patient population into three groups by age: less than 57 years, 57 to 63 years and more than 63 years. They found that the oldest men had similar improvements in metabolic risk factors as the younger men.

Increased Longevity

A second study partially funded by Danish drug maker, Novo Nordisk, found that men might not live as long if they have low testosterone, regardless of their age.

The new study adds to the scientific evidence linking deficiency of this sex hormone with increased death from all causes over time-so called "all-cause mortality".

"The results should serve as a warning for men with low testosterone to have a healthier lifestyle, including weight control, regular exercise and a healthy diet," said lead author Robin Haring, a PhD student from Ernst-Moritz-Arndt University of Greifswald, Institute for Community Medicine.

Haring and co-workers looked at death from any cause in nearly 2,000 men aged 20 to 79 years who were living in Germany. They were followed for an average of seven years.

The men with low testosterone levels were older, more obese and had greater prevalence of diabetes and high blood pressure, compared with men who had higher levels of the hormone, Haring said.

Researchers also found that men with low testosterone levels had more than 2.5 times greater risk of dying during the next 10 years from both heart disease and cancer, compared with men who had higher testosterone levels.