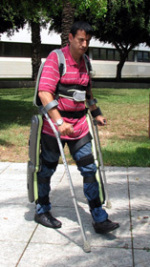 Electronic Suit Lets Paraplegics Walk
September 03, 2008
A robotic suit made by Israeli startup, Argo Medical Technologies, is helping people who are paralyzed from the waist down do something that was unthinkable before now: stand, walk and climb stairs.

Dr. Amit Goffer, Argo's founder and CEO, invented the device, called ReWalk.

ReWalk users walk with crutches and wear braces and they choose the activity they want to accomplish from a remote control wristband. They can choose either to sit, stand or walk. Robotic sensors which recognize the force of gravity and a person's movements, help propel users forward.

The suit has been described as mimicking the exoskeleton of a crab and is expected to arrive on the market in 2010. It will cost as much as the more sophisticated wheelchairs, which sell for about $20,000, the company said.

Meanwhile, ReWalk is undergoing clinical trials in Tel Aviv's Sheba Medical Centre and will soon be tested on paraplegics at the Moss Rehabilitation Research Institute in Pennsylvania.

By keeping users upright on a daily basis and exercising even paralyzed limbs in the course of movement, ReWalk alleviates many of the health-related problems associated with long-term wheelchair use, the company says.

The benefits of standing are both physical and psychological, physical therapists note. Physically, ReWalk exercises muscle groups that would never be exercised while sitting and just as important, allows the lungs to fully expand. Psychologically, the electronic suit lets people live at an upright level and make eye contact with others more confidently.

Dr. Goffer said that "it amazed me that in the 21st century--where change is measured in nonoseconds--there remained over five million mobility-impaired people in the developed world for whom little has changed since the early 1990s. The sedentary wheelchair, with all its known detrimental impact on physical and mental health, productivity and inclusion, was until now the standard for mobility."

Regrettably, Dr. Goffer, who was paralyzed in an accident in 1977, cannot use his exoskeletal suit because he doesn't have sufficient upper body movement.