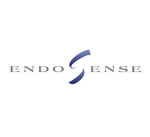 Experimental Catheter Ablation Device Provides Tactile Feedback
October 09, 2008
Geneva, Switzerland-Medical device start-up, Endosense, has developed a catheter ablation device for atrial fibrillation, which for the first time, will provide physicians with the tactile feedback they need to accurately measure the contact force between the catheter and the beating heart wall.

The experimental device, called the TactiCath, uses a proprietary fiber optics technology to precisely measure the contact force during a catheter ablation procedure, so doctor's won't have to guess, Eric Le Royer, president and chief executive officer of Endosense tells DOTmed News.

"One of the major challenges with the catheters used today is you don't know if it is touching the heart," LeRoyer says. "It's like trying to sew with no fingers." Le Royer adds, "We're providing a new sense of touch so doctors know what the force at the distal end of the catheter is, improving both safety and efficacy." Le Royer says that "until now, the positioning of the catheter was balancing act. When there's not enough contact force, the defibrillator is ineffective and when there is too much contact force, the catheter tip may perforate the heart wall.

The TactiCath-expected to win approval in the first part of 2009-- is now undergoing clinical trials in Europe. So far, the TactiCath has been tested on 10 patients. Researchers plan to complete testing of 70 patients to win regulatory approval throughout Europe, before beginning trials in the US.

Patients can live with arterial fibrillation for many years, but they are looking desperately to find solutions to the problem as the condition triggers stroke and heart failure, Le Royer says.

Currently, patients with AF have two treatment options: anti-arrhythmia drugs and beta-blockers, which only provide effectiveness 40 percent of the time; or invasive ablation surgery, he says.

TactiCath is less invasive and is the same size as standard catheters. It is a high-end, 8.5F sheath-compatible, open irrigated, steerable ablation catheter that seamlessly integrates Endosense's proprietary "touch" fiber optic sensor technology in the catheter tip. During the procedure, physicians thread the TactiCath through the patient's groin area to the upper chamber of the heart.