This report originally appeared in the February 2009 issue of DOTmed Business News
It has been 95 years since Henry Ford created the first assembly line. Since then, industries have concentrated on fine-tuning the process to improve manufacturing techniques. One such manufacturing innovation-called lean manufacturing, was invented by the founders of Toyota and so it is also known as the Toyota Production System.
Lean manufacturing is a manufacturing strategy that seeks to produce a high level of throughput with a minimum of inventory. The term "lean manufacturing" centers on placing small stockpiles of inventory in strategic locations around the assembly line, instead of in centralized warehouses. These small stockpiles are known as kanban, and the use of the kanban significantly lowers waste and enhances productivity on the factory floor.
Although car companies were the businesses that found the earliest successes with lean manufacturing, through the years other companies, including many involved in the medical industry, have found success with the process. You see, lean manufacturing is not about cars at all. Granted, it was Toyota that really excelled at driving this into the culture, but not because they made cars, but because of the company's constancy of purpose around a specific management philosophy and culture.
"It's a myth that lean is about Toyota, that's just what all the press is on, but there are actually companies out there that are much better and some of them are medical companies," says Kevin Duggan, president of Duggan Associates and founder of the Institute for Operational Excellence, which teaches lean principals. "Medical device companies have achieved significant improvement using lean techniques. Improvements in quality, productivity, lead time, inventory, on-time delivery, and cost have been obtained and further improvement continues."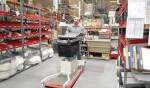 The success that these medical device manufacturers are enjoying allows them to stop chasing quality problems, parts, or suppliers, and instead spend their time and resources developing new products, breaking into new markets, and strategizing on how to grow their business.
"It's about a process focus on producing business results, valuing the employee, using scientific methods to improve those processes, and relentlessly driving continuous improvement to the flow of value to the customer," says Gregory Johnson, senior director of process solutions for Medtronic Xomed, which manufacturers and distributes surgical products for use by Ear, Nose and Throat specialists. "Thus, lean is about employees, process and customers, not cars or any specific product."
Getting Started
Duggan is often faced with doubters about the prospect of using lean manufacturing techniques from the medical world. Excuses he has heard include "We're too complex," "We need to meet specific requirements," "We work under a microscope, not on some big assembly line," and "We have shared resources at the factory."
"Most companies found it's very challenging to start lean. Once we give them a deeper education on how it works, it starts to make sense to them," Duggan says. "A 101 course doesn't do it for them, they need a 301, 401 course to understand what lean can do.
Once they learn the techniques, Duggan believes everyone can find success with lean manufacturing.
"When a general company goes into lean, most of them do a staircase of continuing improvement. They make improvements, sustain, then look elsewhere, make improvements, sustain, look elsewhere. It is continuous improvements. It takes 10 to 15 years making incremental change. I have found the biggest thing holding companies back from making significant improvement quickly is the question 'where will your lean journey take you?' If they can answer that question, they can go a lot farther a lot faster."
Sometimes a company just needs to sit down and examine everything and see if they are where they want to be. When Biodex Medical Systems did a self-evaluation in 2002, they decided to bring in a manufacturer consultant, who suggested lean manufacturing, to make things better.
"About five years ago we had reached a critical mass in size and we came to the conclusion that things were not going well in the manufacturing operation side of the business," says James Reiss, CEO of Biodex Medical Systems, which manufactures a variety of products for the diagnostic radiology market, as well as equipment used for physical rehabilitation. "Inventories were very high, delivery time was poor, the quality wasn't as good as we would have liked it to be. It became very clear that we needed some help and needed to take a better look at what we were doing."
Reiss says that it wasn't easy and it took about two years for things to get rolling, but now that it has, everything is improving. One product line even went from an average delivery time of five months to four weeks.
"Since we have incorporated lean manufacturing, and we are getting better and better at it, every single part of what lean teaches you has happened," he says. "Our inventories have dropped dramatically, our on-time delivery has increased dramatically. Our quality has increased, our costs have lowered. Sales have gone up and we have the same number of people that we had five years ago. We have been very fortunate."
More About the Process
One of the primary focuses of lean manufacturing is to eliminate waste - anything that does not add value to the final product gets eliminated. Therefore, large inventories which require costly storage spaces are seen as a type of waste that carries with it a high cost.
In addition to eliminating waste, lean manufacturing seeks to provide optimum quality by building in a method whereby each part is examined immediately after manufacture, and if there is a defect, the production line stops so that the problem can be corrected immediately.
"The people at the top teach but anyone at the company is empowered to make changes. Any person here can decide to call a meeting and fix a problem," Reiss says. "We even have lights that will indicate where an assembly worker has stopped a line because they need to solve a problem. We don't put a Band-Aid on a problem; we fix it so it never happens again."
This philosophy helps to empower workers, and allows for production decisions at any level. It's based on the belief that those closest to production have the greatest knowledge of how the production system should work.
"We're taught lean is a journey of continuous improvement, a journey with no destination. However, the lean journey does have a destination, and a road map to get there as well. It's all about Operational Excellence," Duggan says. "This is achieved by creating an environment where each and every employee can see the flow of value to the customer, and fix that flow before it breaks down."
This impacts the medical device manufacturers by creating a robust quality and delivery system and an internal "immune system" in the production of these products.
Medtronic Xomed has been using lean principals for almost a decade, implementing a system called Lean Sigma, with an approach aimed at finding better ways to serve its customers and patients.
"It evolved into a central architecture for training, tools and methods that are implemented and driven locally," Johnson says. "We never associated Lean Sigma exclusively with manufacturing. Our point of view is that these approaches apply to all of our business processes."
Seeing Success
Johnson says that Medtronic Xomed offers many case studies where they have dramatically reduced process variability, accelerated flows, and improved the value provided to customers.
"In general terms, we have received approximately $250 million in bottom-line benefits from Lean Sigma projects during the past five years," says Johnson. "More importantly, we have evidence that we are improving our ability to serve our customers, providing a more rewarding work environment, and gaining some competitive advantages."
Johnson cites one product line where they were able to cut the entire cost structure in half. He cites another where they reduced lead-times by 75%.
In 2002, two years before being acquired by the IDEX Health & Science Group, Sapphire Engineering, which develops and designs medical devices for DNA synthesizing, started looking into lean manufacturing and the process of Value Stream Mapping.
"What we saw immediately was the lean tool set was extremely powerful to the degree that it would have significant cultural impacts on our organization," says Bradley O'Brien, Value Stream Manager of IDEX Health & Science LLC, home of Sapphire Engineering Products. "We struggled with accepting that initially as an organization accepting, not knowing what lean was, but obviously they understood that it was going to find and eliminate waste and reduce some work content. But ultimately, the goal of this organization was continued growth and once they realized the idea wasn't to eliminate jobs but to take on greater market share, while making their jobs easier, people began to really become enthusiastic about the process and that was the turning point for us."
By mid-2006 the company started to pick up steam on the implementation for more product lines and the refinements for the existing value streams that were put in place.
"By doing value stream exercises, we were able to eliminate redundancies. What lean taught us was that it's like links in a chain. If you do a tune up on step three, that doesn't necessarily mean you are going to get any more throughput out the back side because steps 4, 5 or 6 might not be optimized, so basically what you've done is move the bottleneck," O'Brien says. "Waste we found when looking at it from a sequence standpoint would be overproduction, waiting, excessive motion, defects and redundant processing steps. I know we had one particular product line where we would inspect components at the end of one process, then again at the beginning of the next process and there was a large amount of time involved and no value added in doing it twice."
The company has seen first-pass yield improvement increases of 10-30%. They have also seen inventory reductions of 25-40%, lead time reductions of 50% and on time delivery improvements to 100%.
"We've been able to redeploy eight employees because of the reduction of work content and elimination of waste," O'Brien says. "We've been able to move them to other departments or on other product lines where there has been an increase in demand or we needed the help."
Fluke Biomedical, which provides test and measurement equipment and services for the health care industry, has employed lean manufacturing principles since its inception in 2002.
"We've enjoyed continued success as a result of an ongoing journey of continuous improvement that provides tangible results for our customers in the form of quality, service and innovation," says Roderick Jones, President of Fluke Biomedical. "In the end, driving customer satisfaction is the fundamental reason we employ lean practices at Fluke Biomedical."
Lean principles have enabled Fluke Biomedical to continuously improve in several areas including: quality, on-time delivery, lead-time reduction, inventory, floor space utilization, and labor productivity
"On the shop floor, through standard work and single piece flow, we have found success in reduced inventory and production lead-times, improved product quality, improved manufacturing flexibility as well as a safer work environment," Jones says. "Although lean techniques are commonly associated with manufacturing, we have also found success utilizing these principles to eliminate waste in back-office processes and customer facing activities. However, arguably the most compelling success has been the culture change to embrace continuous improvement as a way of life. We believe this provides the ability to sustain results and provide continued benefits for our customers."
Downside to Lean
In most manufacturing environments, there's an aspect of trying to protect your position and some people just don't want to change their ways, so the key hurdle in lean manufacturing implementation involves the cultural acceptance.
"The biggest con is how you roll it out and how it's perceived by the organization if people think it's going to negatively impact their jobs," O'Brien says. "It's natural to keep things close to the vest and we needed to make people understand that this was going to make us stronger as an organization and that they would have to relinquish a little bit of control and maybe do things a little bit differently."
Reiss warns that you may lose people along the way.
"There are some managers who can't work that way," he says. "The opposite of lean is mass production and that's a common way of doing manufacturing and there are people who believe wholeheartedly in that and won't change to lean."
Hospitals Getting in on the Act
In the past few years, many hospitals have applied lean production techniques and have seen improvements in their efficiencies.
Beth Israel Deaconess in Boston is one of the region's leading proponents of the Toyota Production System and has used the method to address everything from patient paperwork backups to clogged waiting rooms in various specialty departments.
BIDMC CEO Paul Levy says that lean methods have reduced average wait times in the orthopedics department to 84 minutes from 187 minutes. They have also been able to eliminate extra steps. One method has their patients self-checking into an X-ray waiting room where they can signal electronically that they have arrived, allowing technicians to speed up the process.
After hearing about lean manufacturing in 2002, Seattle's Virginia Mason Hospital and Medical Center sent their managers to Japan to visit Toyota and Yamaha plants to get a better understanding of how the process worked. In the ensuing years, more than 200 staff members have taken the trip.
According to Dr. Gary Kaplan, Virginia Mason's Chairman and Chief Executive Officer, studying the process led to many changes at the hospital, including redesigning facilities to make patient and staff work flow more productive.
They created standardized instrument trays for surgeries and procedures, saving hundreds of dollars by making sure only needed instruments are opened, which avoids having to discard of opened but unused instruments. They have a system that puts a reminder card at the bottom of a set of supplies, allowing workers to re-order just when those supplies are needed. They also instituted a patient safety alert system, where if an error is found, the whole process is stopped and the problem fixed immediately.
"We get so wrapped up in the seriousness and specialness of health care, but we also have to open our eyes to other industries, we're way behind in information specialists and taking waste out of our process," Kaplan said at the outset of the lean manufacturing techniques being instituted. "Toyota is obsessed with the customer and customer satisfaction. All those things Toyota was about were what we wanted."
The changes have resulted in an 85% reduction in how long patients wait to get lab results back, and lowered inventory costs by $1 million. The hospital reduced overtime and temporary labor expenses by $500,000 in one year and increased productivity by 93%. While direct cost savings aren't passed on to patients with the new system, less waiting, increased safety and more efficient care are.
Other hospitals around the country that are finding similar success include St. Luke's Episcopal Hospital, in Houston, Texas and the Meadows Regional Medical Center in Vidalia, Georgia.
"One of the goals of lean health care is to awaken a new level of thinking and introduce manufacturing approaches that have been proven to produce excellent efficiency and profitability," says Meadows CEO Alan Kent. "The lean team at Meadows developed 44 action items for reducing lead time to admit, treat and discharge a non-critical ED patient, 18 of which were determined to be low cost and high impact."
Future of Lean
When it comes to where lean manufacturing can take medical device manufacturers or anyone in the health industry, the possibilities are endless.
"They can start looking at getting more market share. They can design something new because they have more resources available now. There is a free up of cash that could allow for an acquisition of another company, maybe the suppliers of the competitors to be more competitive," Duggan says. "They can also grow through product development. Be more reliable, more accurate, much more sought after. The company that's designed to grow frees up a wealth of opportunity for any strategy to drive their people thinking about the strategies."
That seems to be an opinion shared by each of the companies we spoke with for this story.
"The nice thing about lean is that it's never ending and you are constantly trying to improve," Reiss says. "Now we have several different programs in the company where a group of people can get together and try to improve something."
Johnson agrees. "Lean Sigma is a core element of our strategy and how we will fulfill many aspects of our mission. If we can create an organization of 38,000 outstanding problem solvers, I am confident that Lean Sigma can help this company rise to nearly any challenge that the future holds for us."