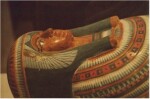 Images Reveal Mummy Not Seen for 3,000 Years
February 06, 2009
Stunning 3D images reveal a mummy that has been sealed in a coffin for more than 3,000 years thanks to a cutting-edge medical scanner developed by Philips.

The elaborately decorated coffin of the Egyptian woman, Meresamun, who was believed to be a priestess at a temple in Thebes in 800 BC, has remained intact and completely closed as curators at the University of Chicago's Oriental Museum, where she has been for more than 80 years, have been reluctant to examine her further and risk destroying the beautiful decorations.

Now, thanks to the latest in computed tomography (CT) scanning technology, which is used to help diagnose and treat disease, researchers have been able for the first time to show the world remarkable 3D images of a woman who lies preserved inside the beautifully painted casket. Using a Philips 256-slice Brilliance iCT scanner they were able to collect thousands of images from which they have been able to create highly detailed 3D pictures without exposing the fragile remains to the elements.

The technology enabled researchers to "see through" the casket to the mummy, still wrapped in her layers of linen bandages. The scanner is able to "peel" each layer away to reveal her skeleton, including what appear to be stones in her eye sockets, her remaining internal organs and give vital clues about how she lived. Markings on the coffin also suggest other important facts about her life. (Readers can also go to the article,"The Science of Forensics," page 53, January issue of DOTmed Business News for additional information on CT technology and mummy remains.)

The iCT works at very high speeds. In the living this means it can produce a full body scan in under a minute and accurately capture moving organs, including the entire heart in just two beats. This enables clinicians to make a speedy, accurate and comprehensive diagnosis for their patients.

"The pictures are breathtaking," said Michael Vannier, M.D. "cleaner and crisper than anything we had seen before. We can perform detailed analysis of very complex anatomy within seconds."