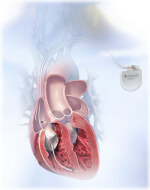 ICD Reduces Sudden Death in a Subset of Immediate Post-MI Patients
April 01, 2009
ORLANDO - Results from the IRIS (Immediate Risk Stratification Improves Survival) clinical trial, supported in part by Medtronic and presented at the 58th Annual Scientific Session of the American College of Cardiology, showed that sudden cardiac death in a specific subset of immediate post-MI (myocardial infarction) patients was significantly reduced with implantable cardioverter-defibrillator (ICD) therapy.

ICDs are 98 percent effective at terminating the dangerous heart rhythms that can lead to sudden cardiac death, but are not currently indicated for use in immediate post-MI patients.

The IRIS trial sought to determine if survival among a subset of post-MI patients who were at high risk for sudden cardiac death could improve after receiving ICD therapy in the first 31 days after a heart attack.

The literature has shown that a significant percentage of people who survive a heart attack, or MI, will ultimately die as the result of a dangerous heart rhythm originating in the lower chambers of the heart. Approximately 15 percent of these people will die in the first weeks, and an additional 10 percent during the first year following the heart attack.

The patients selected for the trial were in the immediate post-MI stage (days 5-30), and based on selective criteria, represent less than 5 percent of those who have suffered a heart attack. The trial involved 902 patients at 92 centers in seven countries in Europe.

The IRIS results do not conflict with previous data that informed current evidence-based treatment guidelines showing that use of ICDs in a more broadly defined range of post-MI patients (those who received ICD therapy at least 40 days after experiencing a heart attack) reduced all-cause mortality by 31 percent. Current medical guidelines recommend ICD therapy for post-MI patients with an ejection fraction of 35 percent and below, and after at least 40 days have passed since their heart attack.

"Medtronic is committed to developing an evolving base of clinical evidence critical to scientific advancement and medical practice," said David Steinhaus, M.D., medical director of the Cardiac Rhythm Disease Management business at Medtronic. "The IRIS trial is another example of our efforts to identify the patients who will benefit most from our life-saving and life-improving therapies."