This report originally appeared in the December 2009 issue of DOTmed Business News
Hospital furniture may seem like a rudimentary subject, but a great deal of engineering goes into a lot of the furniture in today's modern hospitals. In an intensive care unit, for example, patients spend the majority of their stay in bed, making it not only the most important point of care, but in some cases, an equally important part of their treatment. As for physicians, radiologists, nurses and other health care workers, workstations and exam room furniture dictate the level of comfort and productivity built into their busy schedules.
Story Continues Below Advertisement
KenQuest provides all major brands of surgical c-arms (new and refurbished) and carries a large inventory for purchase or rent. With over 20 years in the medical equipment business we can help you fulfill your equipment needs
Resting on intelligence
Among the major players of hospital bed manufacturing, Hill-Rom offers some very sophisticated technology. In Mary Butler's estimation, as vice president of Hill-Rom's North America Acute Care division, the hospital bed is an essential part of the care patients receive.
At the top of the manufacturer's specialty beds is the Hill-Rom TotalCare Connect, which features a host of technologies engineered to not only prevent wounds, but to promote skin healing, healthy lung function and proper body fluid states. It can also help prevent hospital-acquired infections and aid safe transfer of patients - designs imparted by health care professionals and researchers. In fact, Hill-Rom partners with universities and retains research and development facilities in the U.S., France and Singapore. Not only does the technology make sense for acute care situations, but it is also in line with preventing what the Centers for Medicare and Medicaid Services (CMS) refuses to pay for - preventable patient falls and pressure sores and other notorious "never events."
Hill-Rom's state-of-the-art acute care bed has microprocessors used to gauge and adjust the pressure settings within the mattress. "These microprocessors run a variety of functions on the bed," says Butler. "We've built in an algorithm based on weight distribution. About 40 percent of your weight is above the waist and 60 percent below; the bed adjusts for any changes in pressure. For example, as you raise the head of the bed you get their lungs draining properly, but by doing that, you are increasing the pressure in the feet and you need to adjust for that pressure. Similarly, the beds help position the knees to accommodate sequential compression."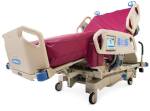 Even the mattress fabric is sophisticated. Silver antimicrobial nanotechnology helps protect surfaces, while just underneath, air is flowing through a complex system of air bladders further preventing skin breakdown. The acute care beds are also heavier and accommodate a lot more peripheral equipment - for instance, a C-Arm can slide underneath the bed for in-room imaging. "With this design you have less of the arm lifts and a lot of things are moved out of the way, which creates a unique architecture," says Butler.
| | | | |
| --- | --- | --- | --- |
| | Pages: 1 - 2 - 3 - 4 - ... | >> | |