by
Sean Ruck
, Contributing Editor | June 21, 2011
From the June 2011 issue of HealthCare Business News magazine
Logan:
We're actually repeating the process twice this October, first on alarm safety and then on reprocessing reusable medical devices. The alarm safety summit will be co-hosted with the ECRI Institute and the American College of Engineering. The summit on reprocessing reusable medical devices will be co-hosted with the FDA, since that topic is one of the FDA's new efforts.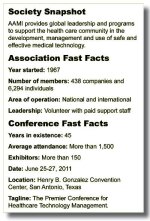 Quest Imaging Solutions provides all major brands of surgical c-arms (new and refurbished) and carries a large inventory for purchase or rent. With over 20 years in the medical equipment business we can help you fulfill your equipment needs

DMBN:
Has the Association's direction or goals changed under your leadership?
Logan:
Some things have definitely changed, and I think they've been welcome changes. For example, last November our board adopted a new strategic plan for the association. This four-page plan replaces the old 50-page plan. We also recently went through a rebranding initiative and I would say although most people in the outside world won't really notice the change, it's really important in how we represent ourselves to the world. For the first time, we have a tagline, "Advancing safety in medical technology." We also moved last year to much more inviting office space, with great meeting rooms for members.
DMBN:
What are some of your personal goals as president and CEO?
Logan:
One of the charges the board gave me when I first joined was to build bridges with the external world and I have worked really hard on that. Last year alone, I met with about 50 organizations.
We are so busy with so many opportunities. One of my challenges is helping to make sure we have the capacity to do all the things possible. We've opened the doors, shaken the rugs out the window and announced to the world we're ready to do work. Now, we need to make sure we're ready to do a really good job with what we have on our plates.
DMBN:
And that will be seen at your conference?
Logan:
Certainly. I'm looking forward to many highlights. Standout examples include our Harken Lecture, where a nuclear energy expert will share lessons we can apply in health care, the Joint Commission's EVP as a general session speaker, and an FDA expert who will speak on the new MDDS [medical device data system] regulations.
DMBN:
What do you most look forward to about the show?
Logan:
To me, the most important thing about the conference is being in one place with a community of 1,500 committed technology experts who care a lot about patient safety and advancing clinical technology. It's fun and energizing to be with them in a great learning and networking environment..