The much anticipated wait for
ElsMed Ltd Medical Systems
to move its main offices and refurbishing center to a new state-of-the art facility is finally over! On January 1, 2012, ElsMed Ltd. completed the move to a 12,000-square foot facility located in the heart of the high-tech area in the city of Petak Tikva, just 5 miles from Tel Aviv. Included in their new facility are 4 testing pods for CT and other equipment, 1 gigantic high technology spray room, testing room for parts, and 4,000 square feet of inventory.
Story Continues Below Advertisement
We are wholesaler of pre-owned and new brand name medical display monitors. We have top brand grayscale and color LCD monitors with up to 3 years warranty and at least a 30 days money back guarantee at up to 80% off MSRP.
ElsMed employees will also enjoy all brand-new offices, office equipment, and an in-house chef for lunches. ElsMeds new facility is a must-see for all of their affiliates and the invitation is welcome to anyone anytime!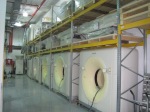 In addition to their new facility, ElsMed will keep their old warehouse which houses over 30 CT systems and parts.
Created in 2003, ElsMed Ltd. is known worldwide for their expertise with Philips, Elscint CT /MR systems and spare parts.