By Brendon Nafziger and Loren Bonner
Charlie Smith - not his real name - never made it out of intensive care.
The 82-year-old patient died after his blood pressure plummeted, a condition known as hypotension that affects up to a quarter of patients in the ICU, and can lead to organ failure.
Story Continues Below Advertisement
SRI is a leading Developer, Manufacturer & Supplier of Innovative Portable Imaging Equipment. We offer Lightweight, Agile, Easy to Maneuver Portable X-Ray Systems ideal for maneuvering in tight spaces. Call us at 631-244-8200
But at a research facility an hour's drive north of New York City, engineers are developing a predictive algorithm they say can score patients based on likely pressure-drop risks. With the scores, doctors in the ICU might be able to intervene earlier.
The technology is just one of at least four in-the-works health care projects Royal Philips Electronics is cooking up at a Philips Research outpost in Briarcliff Manor, N.Y. DOTmed News toured the facility last week.
Research campus
The leafy campus, whose interior somewhat resembles the science wing of a mid-century high school, dates back to the 1940s, when Philips executives briefly transferred much of the company's control to a U.S. subsidiary to preserve its independence during the German occupation of Holland.
Now the Westchester county office, along with sites in Massachusetts, Europe and Asia, is one of the half dozen facilities that the Dutch giant relies on to come up with new inventions to "meet unmet needs" in the marketplace, according to Philips Research's general manager, Henk van Houten.
As with other technology-driven companies, employees are given some creative playtime. Every Friday afternoon, for instance, engineers can tinker on their own projects, which are later shared at an annual Eureka Fair. Airfloss, a recently released consumer product that cleans out dental plaque with blasts of air and water instead of waxy tape, came out of one of these meetings, according to Van Houten.
Focusing on health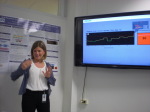 While the campus is not only focused on health care research, Philips increasingly is. Though perhaps best known for its lighting -- Philips is the biggest maker of light bulbs in the world -- the company says health care products, such as MRI scanners and patient monitors, now account for the heftiest chunk of its sales. According to slides shared by the company, 40 percent of its nearly 23 billion euros ($29 billion) in revenues last year came from its health division, 34 percent from lighting, and 26 percent from its consumer lifestyle wing, which makes things like electric razors.
| | | | |
| --- | --- | --- | --- |
| | Pages: 1 - 2 - 3 - 4 | >> | |