by
Loren Bonner
, DOTmed News Online Editor
The broad message at AHRA's annual meeting in Orlando, Fla. this week wasn't a rosy one. In so many words, it was a rude awakening for the industry.
"It's clear that it's a nasty world out there [in radiology], but in any turbulence there's opportunity," said Lawrence Muroff, president and CEO of Imaging Consultants Inc.
Story Continues Below Advertisement
SRI is a leading Developer, Manufacturer & Supplier of Innovative Portable Imaging Equipment. We offer Lightweight, Agile, Easy to Maneuver Portable X-Ray Systems ideal for maneuvering in tight spaces. Call us at 631-244-8200
Throughout the show, a big annual event for radiology administrators, speakers warned that the U.S. health care delivery model was changing, and imaging departments had to get on board or be left behind.
Unsustainable
Keynote speaker Brian Klepper, managing principal of Healthcare Performance Inc., attributed the coming changes to larger economic dynamics in health care.
According to Klepper, health care spending has gotten to the point where it's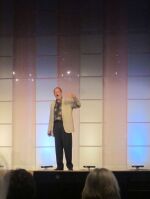 now draining the U.S. economy. "In other words, it's eating up growth," he said. And the unsustainable U.S. health care system, which Klepper said essentially encourages specialists to practice to the codes, is leading policymakers to embrace new payment models.
ACOs and bundling
Despite the debates around health care reform (and they will only increase given the election), new payment models are already being implemented on the ground.
Accountable Care Organizations have become one of the most talked about provisions under health care reform. Essentially, ACOs are a network of doctors who share the responsibility for a patient's care and are not paid for their individual services but instead are incentivized with bonuses for keeping costs down.
"This is going to happen folks, I promise. And insurance companies sure like it," said Shawn McKenzie, CEO Ascendian Healthcare Consulting.
In fact, it's already happening. Laurel Sweeney, senior director of global reimbursement for Philips Healthcare, mentioned that 32 organizations became ACOs as of January this year.
"We see more cropping up everyday. More people are getting involved," she said. Most are Medicare-based, but private insurance companies are following suit. According to Sweeney, many large payers like Cigna have set up ACOs for the private market.
Bundled payments, which give providers a sum of money for an episode of care, are also taking off. Around the country, demonstration projects are looking at ways to structure this model, which will include imaging, Sweeney said.
| | | | |
| --- | --- | --- | --- |
| | Pages: 1 - 2 - 3 | >> | |