How safe are breast biopsy samples?
by
Loren Bonner
, DOTmed News Online Editor | October 01, 2012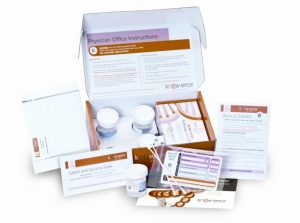 Personalized medicine -- specifically tailoring medicine to someone's own DNA -- is fueling innovative approaches not just to treat breast cancers, but also to ensure correct diagnosis among biopsied women.

"We're entering an era of personalized DNA medicine where everyone in the future will have their breast cancer tested to ensure that, first, it was their cancer and second, to tell them if chemotherapy is needed [prognostic], lastly it will help tell us which type of chemotherapy is best-suited for their cancer, based on DNA testing," Dr. Andrew Kenler, a Connecticut-based breast surgeon at the Norma F. Pfriem Breast Care Center, told DOTmed Business News.

While breast cancer therapy based on DNA may not be available clinically for some time, a new system to protect breast biopsy patients from inaccurate diagnosis due to misidentification of biopsy samples is already being used at a few select cancer centers around the country.

Dr. Kenler was one of the first physicians to incorporate the "know error" breast biopsy kit, from the Indianapolis-based Strand Diagnostics, as a standard part of his breast biopsy protocol at the Norma F. Pfriem Breast Care Center, which is affiliated with the Yale New Haven Health System in Bridgeport, Conn.

According to Kenler, the results of one in 100 breast cancer diagnoses is a DNA-non match. "That is to say that of the approximately 300,000 breast cancers that are found annually, roughly 3,000 biopsy results will be a DNA-non match [false positive]," he said.

After a biopsy sample is taken from a patient, it typically travels through a lengthy process -- roughly 20 steps -- usually in multiple locations and with multiple providers.

Kenler said the most common medical errors occur when the specimen is mislabeled either in the doctor's office where the core breast biopsy is done or in the pathology lab. The second most common error that can lead to false positive breast biopsies occurs when the specimen is contaminated in the pathology lab during the routine biopsy evaluation process, he said.

Strand Diagnostics, which also makes a testing kit for prostate biopsies, developed the breast biopsy system based on patient-specific bar coding and forensic chain-of-custody principles as well as DNA Specimen Provenance Assignment or "DSPA" testing. According to a statement from the company, the DSPA test verifies patient identity at the molecular level by comparing genetic profiles obtained from the patient's biopsy tissues and a DNA reference sample, taken via cheek swab at the time of the biopsy procedure.

"Determining whether chemotherapy is needed or which type of chemotherapy is best suited cannot be done unless you definitively know that the cancer belongs to the patient in question," said Kenler.
You Must Be Logged In To Post A Comment
Registration is Free and Easy.
Enjoy the benefits of The World's Leading New & Used Medical Equipment Marketplace.
Register Now!