by
Nancy Ryerson
, Staff Writer | March 11, 2013
From the March 2013 issue of HealthCare Business News magazine
As Intuitive Surgical continues to build on its product, in the last couple of years, other robotic surgery companies have appeared on the scene for the first time.
One company, Corindus, currently has 10 systems in clinical trials around the country being used for the placement of catheters, guide wires, balloons and stents in cardiology procedures. Studies have found that having a more accurate placement of a stent reduces the risk of complications, says David M. Handler, president and CEO of Corindus.

Quest Imaging Solutions provides all major brands of surgical c-arms (new and refurbished) and carries a large inventory for purchase or rent. With over 20 years in the medical equipment business we can help you fulfill your equipment needs

Mazor Robotics, another newcomer to the robotics scene, has been purveying its Renaissance robotic technology for spinal surgery since its patent was approved in 2011. The company has now been cleared to offer robots for brain surgery as well.
Besides minimally invasive surgery, robots have also been appropriated for radiosurgery. The company Accuray uses robots originally built for car manufacturing to mount a linear accelerator in its CyberKnife system, first FDA cleared in 2001. That set-up allows it to approach the patient from any angle rather than just arcing over the patient as in conventional accelerators, making for even dose distribution and direct radiation.
"The machine basically does all the work," says Dwight E. Heron, MD, professor and vice chairman of clinical affairs in the department of radiation oncology at the University of Pittsburgh School of Medicine. His facility installed the second ever CyberKnife system.
The company released the latest version of the CyberKnife, the M6, at ASTRO 2012. The treatment is used for brain and spinal tumors as well as for lung and prostate cancer. It's especially effective for patients whose cancer was caught early, as it does not require an incision and takes no recovery time for most patients.
"I was playing golf after my surgery," says Michael Uhrich, a retired technology teacher from New Jersey who was treated for prostate cancer. Besides the quick recovery, the thought of being treated by a robot was actually a comfort to him. "I knew it would be more accurate than someone's hand and eye," he says.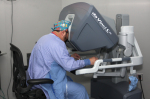 Tough training
Robots make life easier, but it takes some time to get used to them – so much time, in fact, that the robotic surgery learning curve dissuades some surgeons from getting started. Surgeons like Patel may perform prostatectomies daily, but most other surgeons only perform eight or so in a year and fewer than 100 in an entire career. That's not much time to become accustomed to an entirely new technique.