"For us it's about the collaboration we have with our customers," said David Pacitti, president of Siemens Healthcare North America. "You go to every booth and you'll hear companies talk about the bells and whistles they have, but we really think what sets us apart is that we not only have great technology but we're collaborating with our customers in a more meaningful way with a focus on improving outcomes and reducing overall costs."
The trend toward service-minded relationships is logical in light of the budget constraints that facilities are under and may align nicely with the push for smarter, software-based solutions.

Special-Pricing Available on Medical Displays, Patient Monitors, Recorders, Printers, Media, Ultrasound Machines, and Cameras.This includes Top Brands such as SONY, BARCO, NDS, NEC, LG, EDAN, EIZO, ELO, FSN, PANASONIC, MITSUBISHI, OLYMPUS, & WIDE.

"Why should a hospital have to fork over so much money for something that they don't get the best use out of?"
asked Philips CEO, Frans van Houten in an exclusive HCB News interview
. "Redesigning workflow, first time right, less waste... that's what we're trying to bring to the market."
5) Augmented reality – using holograms to improve surgical outcomes
A technology that experts think will complement 3-D printing nicely is virtual (or augmented) reality. Virtual reality software can plan the optimal cut planes and segmentations and those results can be transferred electronically for 3-D printing.
One such software platform is EchoPixel's True 3D
, which uses medical image datasets to generate 3-D visuals of patient anatomy that can be seen using special glasses. Four cameras track the user's head movements and they can use a stylus to move and interact with the visuals in real time.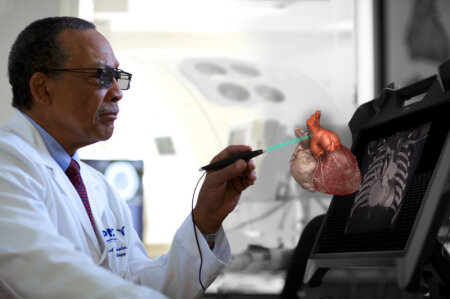 True 3D can also offer intraoperative imaging consultation during complex procedures. Stanford University Medical Center presented a scientific poster at the meeting that found that it's effective at conveying patient-specific information to the surgical team.