by
Sean Ruck
, Contributing Editor | May 31, 2019
From the May 2019 issue of HealthCare Business News magazine
HCB New: This year marks the hospital's centennial. Do you have celebrations planned?
MB:
We started in 1919 as a small hospital. Today, 24,000 employees strong, we have an academic flagship hospital, a research institute, medical education programs, physician organizations and community hospitals. It's hard to imagine our founders even considering that 100 years ago. To celebrate, we have a host of things planned. We're writing our institution's history book, which every one of our employees will receive later this year. There's a documentary that will be premiering in a couple of months. We've been honoring people we consider "game changers" during six luncheons throughout the year.
We also had a massive party with all of our employees this past weekend to honor and thank them, which we held at NRG stadium, home of the Houston Texans. Probably about half our employees came to that event, bringing family members and something like 36,000 people attended.

Numed, a well established company in business since 1975 provides a wide range of service options including time & material service, PM only contracts, full service contracts, labor only contracts & system relocation. Call 800 96 Numed for more info.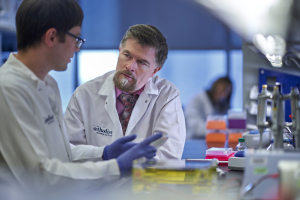 Last, but not least, we created a 53-foot interactive digital wall that went into our new tower, which tells the history of Houston Methodist.
HCB News: We won't look to the next bicentennial for predictions, but how about a decade ahead? How do you think medicine and the profession of healthcare will have changed?
MB:
I think we're going to see technology enable much better healthcare than we have seen in the past. When it comes to digital technology, unfortunately, many clinicians have seen it as a hindrance, but I think we're getting to the point that it's improving efficiency. App-based healthcare, virtual care — these things will be very positive.
To give you some examples, we are the first hospital in Houston to offer 24-hour virtual care. Our clinicians are providing virtual care via an app. You can click a button to schedule an appointment. A clinician has a video visit with that individual. This happens on the patient's schedule, when they want to be seen, without a wait time, without a drive. We did this very purposely. We piloted this with our employees. We opened it free of charge, literally conducted thousands of visits, worked out the wrinkles and then introduced it to the public We've been doing this for about 50 days so far.