by
Lisa Chamoff
, Contributing Reporter | November 23, 2020
From the November 2020 issue of HealthCare Business News magazine
Manufacturers in the radiography market continue to make workflow a priority, with new product releases featuring tube head cameras that provide for easier patient positioning as well as intuitive touchscreen displays.
They are also focusing on smaller, more price-sensitive markets, such as urgent care centers and orthopedic practices.
As always, detectors are wireless, getting lighter and able to be swapped between mobile units and fixed rooms.

SRI is a leading Developer, Manufacturer & Supplier of Innovative Portable Imaging Equipment. We offer Lightweight, Agile, Easy to Maneuver Portable X-Ray Systems ideal for maneuvering in tight spaces. Call us at 631-244-8200

Here's a look at what's new in the space.
Aspen Imaging Healthcare
Earlier this year, Aspen Imaging Healthcare released its T4 OTC, a ceiling-mounted X-ray system designed for small hospitals and orthopedic practices.
The system is designed with legs instead of a box table to allow for wheelchair accessibility. It also comes with a transparent tabletop so the technologist can ensure the detector is aligned to the tube.
The company also released its new Aspen FDR, which has the same table technology as the
AspenOTC. Both products use actuators instead of motors, which allows for "silent up and down table movement," said Rob Scorcia, vice president of marketing and business development for Aspen Imaging Healthcare.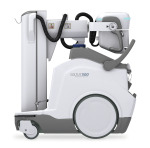 Canon Medical
The company recently released a set of wireless detectors called the CXDI-702C and 402C, which come with a focus on value and are compatible with both mobile and DR systems.
"Even though these are considered a value line they still include convenient hand grips," said Lori Webb, senior manager of solutions marketing for Canon Medical.
Earlier this year, Canon Medical also released its SOLTUS 500 Mobile Digital X-ray system, with a new design that is more compact and lighter than previous versions. It has a 19-inch main touchscreen display that allows for pinch-and-zoom movements and scrolling to shorten workflow, and an 8.5-inch touchscreen display on the X-ray tube head.
For infection control, the system comes with dedicated disinfecting wipe cannister holders, along with a dedicated console for charging the detector.
While the footprint is smaller and the maneuverability is more agile, there is also an anti-collision technology built into machine, with sensors that alert the end user when they're too close to object or in a collision zone.