by
Gus Iversen
, Editor in Chief | December 23, 2020
From the November 2020 issue of HealthCare Business News magazine
In terms of sheer capabilities, no imaging modality is tapping into new potential more than MR.
From ultra-powerful 7 Tesla magnets, to a new generation of portable systems, the frontiers for MR are advancing in both directions. Meanwhile, deep learning and image reconstruction are bringing more insight to every scan. Here, presented in chronological order, are the ten biggest MR stories of the year from our Daily News online.

For those who need to move fast and expand clinical capabilities -- and would love new equipment -- the uCT 550 Advance offers a new fully configured 80-slice CT in up to 2 weeks with routine maintenance and parts and Software Upgrades for Life™ included.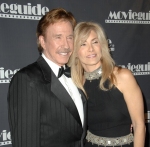 Chuck Norris and wife dismiss lawsuit against gadolinium makers
It isn't often that medical imaging news crosses over into the mainstream, but that's what happened when actor Chuck Norris and his wife, Gena O'Kelley, filed a gadolinium-related lawsuit against Bracco Diagnostics Inc., the subsidiary of Bracco Imaging, in 2017. One of the first big stories of 2020 involved their
decision to dismiss the suit
in January.
The suit, which was filed against 11 drug companies, alleged that injections of the MR contrast agent led Gena to develop Gadolinium Deposition Disease and resulted in numerous hospitalizations, costing the couple $2 million or more in out-of-pocket costs.
Gena alleged the contrast agent led her to develop symptoms that included cognitive impairment, body pain/burning, kidney damage, loss of energy/mobility, and difficulty breathing. She said in 2017 that she continued to require treatment even five years after her last exposure to gadolinium, including controversial and unreimbursed chelation therapy, for the damage she suffered.
Gadolinium long considered completely safe but in 2006 evidence emerged that it could cause nephrogenic systemic fibrosis in patients with renal insufficiency. In 2013, researchers showed the contrast agent could accumulate in the brains of patients undergoing multiple examinations, but experts say there is no evidence yet to suggest harmful effects from retention.
Upon the dismissal, Bracco released a statement expressing its satisfaction over the decision by the Norris family and their attorneys to end litigation. "Bracco takes patient safety very seriously and stands behind the safety of all of its products, including the MR contrast agents ProHance (Gadoteridol) Injection, 279.3 mg/mL and MultiHance."
No settlement payment was made and each party paid their own costs.