A group of eight physicians and technologists from the American College of Phlebology and the Hackett Hemwall Foundation took part in a humanitarian medical mission recently in Guadalajara, Mexico. The physicians are Rick Shacket, Richard Owens, Ghabi Ghorayeb, Gary Clark, Lee Schulman, Carl Black and an ultrasound technologist Paul Lemon, RVT. The trip was led by Dr. Jeffrey Patterson of the University of Wisconsin School of Medicine's Family Practice Department. They provided not only leg vein treatments, but also prolotherapy, a highly effective injection technique for treating chronic musculoskeletal pain.
Mexico is underserved by vein specialists, so the demand for this care is extraordinary and far exceeds the ability of the few qualified Mexican
physicians to treat the population.
Story Continues Below Advertisement
As a Master Distributor for major brands Barco, Philips, and Sony, we offer custom imaging solutions. With our renowned OEM Solutions and Service/Repair Center, Ampronix is a one-stop shop for HD Medical LCD Displays--Printers--Recorders--4K Cameras
The Terason Ultrasound Systems proved instrumental in its capabilities and performance under extreme conditions. The rechargeable battery and lightweight portability made ultrasound scanning viable. The superior image quality of the Terason ultrasound system provided the physicians the confidence needed for a wide range of patients. The sharp contrast resolution and enhanced tissue clarity needed for needle guidance enabled fast and accurate placement, thus allowing for more patients to be seen than originally planned. The ease-of-use, reliability and one-button optimization feature also facilitated rapid throughput.
All patients were screened utilizing the CEAP classification system, which identifies six levels of concern to help categorize the severity of venous disease. Leg vein disorders range from mild telangiectasias (spider veins) to the most severe form of venous affliction, namely open leg ulcers. Lower levels of concern are spider veins, varicose veins and edema (swelling). Patients who also suffer symptoms of brown discoloration around the lower legs, and healed or open sores, met the criteria of more severe symptoms of venous insufficiency and were given a higher priority for physician care by the screening volunteers.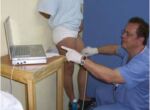 The ease of use and versatility of the Terason Ultrasound System enabled physicians to treat an astonishing number of patients in just one week. With limited time, space and personnel it was imperative to have a fast, accurate diagnosis allowing treatments for those who otherwise would be left unseen. Terason and their ultrasound system proved to be the right choice in bringing daily activities back to those who were impeded by pain and mobility.