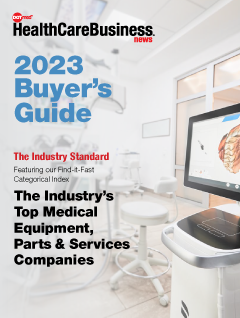 Premium
Front-of-Book
pages available.
Act now!
DON'T GET LOCKED-OUT:
If you want premium placement for your ad in DOTmed's 2023 Buyer's Guide, don't delay. Those pages will be sold on a first-come, first-served basis. Learn more.
Issue Date: March 2023
Closing: December 21st, 2022
866-999-DOTmed (3686) x "Ads" (237)
212-742-1200 x "Ads" (237)
Featuring our Find-it-Fast Categorical Index that brings you more business!
DOTmed's 2023 Buyer's Guide will continue to be the leader because our highly targeted Categorical Index makes it easy for customers to find you fast.
Your company is listed by the equipment or services you specialize in, and includes:

The services you provide for each kind of equipment
The primary contact name at your company
The state your company is located in (a DOTmed exclusive!)
Over 25,000 copies of DOTmed's Buyer's Guide will be mailed to hospitals, imaging centers, surgery centers, clinics, ISOs, and other healthcare businesses, reaching the industry's key decision-makers, influencers, and buyers.
All 1,200+ Upgraded DOTmed Sellers receive the Buyer's Guide yearly.
Bonus distribution at these leading trade shows:
RSNA • AHRA • FIME • AAMI