From mammography to ultrasound, if your company is trying to reach the women's health market then you will want to be seen in the July issue of HealthCare Business News
We look at the ways technology is ushering in more personalized care for a diverse range of patients. Whether it be secondary breast screening modalities, new software to interpret breast density, or improvements to workflow with OB/GYN ultrasound, new innovations are paving the way to better outcomes in women's health.
Featured stories this month:
What's new in breast imaging - We look around the industry to bring you insights on the mammography, tomosynthesis, ultrasound and MR systems and software that are geared toward breast imaging and have entered the market over the last 12 months.
OB/GYN ultrasound - OB/GYN leaders discuss how new technology is simplifying workflow and keeping exams consistent, and look at the ways COVID-19 has changed the way providers and patients are interacting.
Mobile imaging - Whether permanently parked or on the road, trailers provide unique advantages to healthcare providers trying to expand their imaging capabilities. We talk to some of the most well known companies in mobile imaging to find out what providers are looking for in a unit, and how the pandemic has impacted business.
Breast density update - Most states currently have breast density notification laws in place, but how well they're working is a subject of debate. We talk to researchers about what can be done to raise the bar on breast density awareness.
Columns and Departments:
Inpatient mammo screening? - With many older Medicare and Medicaid patients failing to make outpatient appointments for mammography screening, researchers at Mass General have experimented with adding breast cancer screening to the acute treatments being provided during inpatient hospitalizations.
Improving access to 3D mammography - Evidence suggests women of minority races and ethnicities and with less education and income have had relatively lower access to 3D mammography, a technology that can improve breast cancer detection and decrease false positives. We look at the factors behind that, and what can be done to improve the situation.
COVID-9 vaccine and breast cancer screening - Mammography screening conducted after a COVID-19 vaccine can lead to some misleading findings. Knowing this, how should providers proceed?
Imaging Department Manager - Tips for succeeding as a private radiology practice.
HTM Perspectives - When it comes to software and legacy technology, patching may not always be sufficient.
Hospital Spotlight - A look behind the scenes at Fairfield Memorial Hospital and an exclusive interview with their CEO.
People on the Move - A look at some of the big names taking new positions in healthcare.
Future of Healthcare - A top executive with iCAD shares candid insight on the direction breast cancer screening is moving in, and the role AI will play moving forward.
Shows & Events:
Leadership Q&A - Discussing the upcoming AHRA meeting with the president of the organization, Jacqui Rose
Numbers that will drive your July sales message home:
Total Print Circulation: 21,000
Diagnostic Imaging Center Manager/Supervisor: 5,000
Director/Administrator Diagnostic Imaging: 3,000
Director/Manager Biomedical Engineering: 4,000
Additional Online Emailed Circulation: 32,500+
Advertising Deadline Close: Tuesday, June 15th
Materials Deadline Close: Thursday, June 17th
Trade Show Bonus Distribution:
AHRA 2021 - The AHRA's 49th Annual Meeting and Exposition will occur August 1-4, 2021 in Nashville, TN.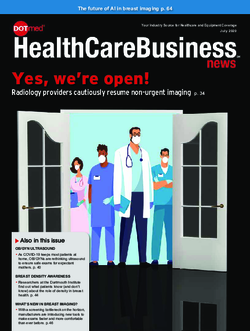 *Our 2020 July cover shown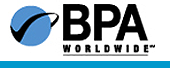 DOTmed is BPA certified, meaning that a neutral third party has verified our circulation numbers.
Advertise on DOTmed's Homepage: Check out the new Resource Guide to promote your company, products & services
---
Digital Distribution
Each month DOTmed emails a digital copy to 32,500+ users.
New sponsorship opportunities available.
Contact us for more information!
Advertise in HealthCare Business News Special Advertising Sections!
Available for July:

AHRA Exhibitors Special Section - Reach past and current AHRA attendees with targeted advertising

Women's Health Imaging Special Section - Get in front of key decision makers today. Promote your company write up, products and news to our readers.

Front of book or content placement:
1/4 page + Pick two bonuses
$1,525
1/2 + Includes all three bonuses
$2,750
Full + All Three Bonuses PLUS extra New Product Showcase
$4,550




Back of book

Resource Guide

placement:
1/4 page + Any single bonus
$750
1/2 + Any two bonuses
$1,375
Full + All three bonuses
$2,275

All advertisers receive homepage banner



Bonus #4

AHRA Preview Email - Booth Write Up

High Visibility - AHRA preview email
List your company name and booth #
Received by 10,000+ Past AHRA attendees the week before AHRA
Highlight your services and attach a link to your website
Up to 100 word count

$500 per placement if purchased separately from print advertisement
Call your sales representative for more information: 866-999-DOTmed (3686) Ext. "Ads" (237) or email us at sales@dotmed.com
Need an ad? DOTmed's award-winning in-house ad department is here to help.