What's the best way to reach the most engaged users of DOTmed?...with a DOTmed Smart Phone ad!
People who use their phones to reach our mobile site are super active shoppers in a 'buy now' mode.
30% of our traffic is mobile - and growing fast!
More than 2,500 buyers browse DOTmed on their phones daily.
That is more than 75,000 a month! -- and that number will continue growing...so don't wait!
Over 220,000 unique pages...
have been viewed on the mobile site over the past 30 days.
For just $250/month.
You can reach these more than 2,500 high-value customers every day. Ads are targeted by categories you choose and are displayed on a rotating basis with other ads in that category.
Animated or Static.
Your mobile ad can be an animated GIF or static image. Send us your message and we'll create the ad for you. If you do it yourself, the file size needs to be 15K or less.
Use the form below or send your message to sales@dotmed.com and we can create the ad for you.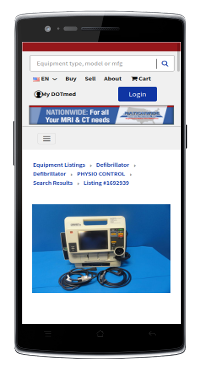 Sample 320 x 50 pixel mobile ads