Dear %%FIRSTNAME%%,
Are You Ready For RSNA 2018?
If you're a stakeholder in radiology there is perhaps no bigger event than the annual Radiological Society of North America (RSNA) meeting in Chicago. Every year, the industry comes together at McCormick Place to reconnect with old colleagues and see the latest and greatest tools changing the way we think about medical imaging.
Of course, this year will be no different, and with 700 exhibitors vying for your attention, we have taken the liberty of sharing with you our annual list of Featured Exhibitors. With this list, (see below) you can dedicate more time to the people and things you want to see, and less time trying to figure out where to go.
Hot Topics
This year we're expecting AI to resume it's place on the throne as the most buzzworthy innovation being discussed at the show. Last year we were hit with a tsunami of AI-talk and that trend is not going anywhere. Meanwhile, budget value MR and CT modalities are likely to continue gaining ground as well as digital radiography (DR) and smarter panels. There is going to be so much to unpack at the show, so be sure to bookmark our Daily News to stay on top of the biggest announcements as they happen.
RSNA Products You Don't Want To Miss
There will be no shortage of technology featured at this event. Click Here for a sneak preview of over 30 products.
RSNA 2018 Meeting App
Stay in the know at all times with the RSNA app to view the meeting schedule, customize your own agenda, view the full exhibitor list, and navigate McCormick Place with our hall map. Available in the App Store and Google Play.
Visit DOTmed at Booth #7707, North Hall B
Visit DOTmed to pick up a free copy of HealthCare Business News magazine and our 2018 Buyer's Guide. With ten issues a year reaching over 32,000 healthcare professionals, plus Daily News online covering current events as they unfold, HealthCare Business News is a leading publication for stakeholders in radiology. Stop by to learn what we have in store for 2019 and ways you can get involved. While you're at the booth, learn about the other services DOTmed provides, like our Clean Sweep auction program. DOTmed is totally mobile, so download our app to take DOTmed and HealthCare Business News everywhere you go! You can also sign up for online news notifications catered to your interests and a free subscription to our magazine. We look forward to meeting with you!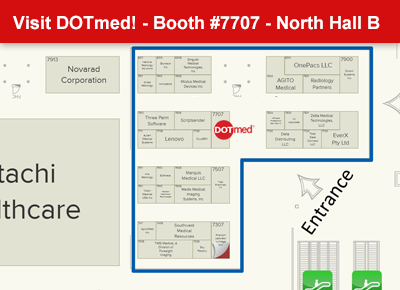 DOTmed's featured RSNA Exhibitors
Browse our exhibitors below and plan out exactly who you'd like to visit at the show! — Grouped by their hall locations for easier planning and listed numerically by their booth numbers:
South Hall A:
North Hall B: