by
Kristen Fischer
, DOTmed News | August 08, 2011
From the August 2011 issue of HealthCare Business News magazine
The goal of these advancements is to treat obesity while lowering mortality associated with some already-developed surgical procedures, and make the technologies more readily available and affordable to the masses.
"Those are some very interesting modalities, especially in view of some of the [pharmaceutical] failures in the past few years," Kochman says, adding that there is no magic pill to do what these endoscopic advancements may be able to achieve.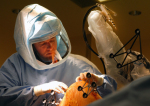 Tissue collected intact with new biopsy needles
Biopsies may be standard practice in the endoscopy field, but even those are always being revolutionized. Cook Medical recently launched its EchoTip ProCore High Definition Ultrasound Biopsy Needle, which provides enhanced accuracy to diagnose cancers in the GI tract.
The needle is used during endoscopic ultrasound to determine a GI cancer's stage of development. Typically, a fine needle is used, but fine-needle aspiration can have limited yield and sensitivity for certain kinds of tumors or in some anatomical locations; plus it only procures a cytological sample. The EchoTip ProCore needle is able to capture tissue samples intact, allowing for a histological diagnosis rather than conventional cytological diagnosis based on individual cells. These needles can access harder to reach tissue in areas of the GI tract such as the pancreatic head, and can be used to sample submucosal lesions, mediastinal masses, lymph nodes and intraperitoneal masses.
A Peek into arthroscopy
In the field of arthroscopy, things are just as active.
Dr. Robert Marx, a top-ranking orthopedic surgeon who practices at the Hospital for Special Surgery, says there have been changes in the way doctors perform ACL operations. Now it is a less-invasive procedure that's arthroscopically assisted and only requires one incision instead of two.
New ACL tissue can be created from the patient's existing tendon or is introduced by way of donor tissue. Sterilizing that tissue, however, has been a challenge. Radiation, which is commonly applied, can weaken the allografts.