by
Sean Ruck
, Contributing Editor | February 26, 2015
From the January/February 2015 issue of HealthCare Business News magazine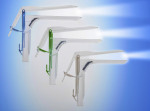 ER-SPEC LED light source
OBP Medical, announced that ER-SPEC, the company's industry-leading disposable vaginal speculum with built-in light source, will feature a new and improved light-emitting diode (LED). Custom developed for OBP and ER-SPEC, the new LED offers improved color and brightness.
The new ER-SPEC LED light source offers numerous benefits and enhancements, including:
A white light that gives clinicians a more natural view.
A level of brightness that exceeds most hospital operating rooms.
A light source that is activated by simply pulling a tab and generates no heat.
A light source that is single use, meaning it possesses only enough battery chemistry for a single procedure.
A light that requires no cleaning or charging/recharging.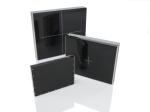 New low dose CMOS flat X-ray detectors
Teledyne DALSA, introduced four new dynamic detectors recently. The new Xineos models, include the 2222HS, 3030HS, 2022HR and 3030HR. The high speed Xineos-HS detectors, feature 152 μm pixel size, are designed to meet the demanding needs of both surgical and cardio vascular procedures by combining high dynamic range with unsurpassed signal-to-noise performance and real-time imaging at the lowest exposure levels in full resolution at up to 90 fps. Additionally, the detectors with square field-of-view of 22x22 cm2 are the largest commercially available 9" flat detectors to benefit spinal surgery. Xineos-HR is the high resolution line of detectors, featuring pixel size of 99 μm, designed to meet the versatile needs of clinical, scientific and industrial applications. These detectors are capable of 30 fps real-time imaging at full resolution of up to 5 Mpixels or 9 Mpixels for the 9" or 12" detector sizes, respectively. Flexible zoom modes can be used to capture regions-of-interest at 120 fps or even faster.