From the August 2015 issue of HealthCare Business News magazine
• System Performance Reports
• System Utilization Reports
• Parts Delivery
• Additional Educational Expenses with CEU credits
• Discount on parts in the service contract
Although each of these factors can influence coverage and service cost, understanding how vendors measure tube coverage is often one of the most confusing components. Each vendor evaluates this based on different metrics. Table 1 shows this for the four most popular vendors in the market.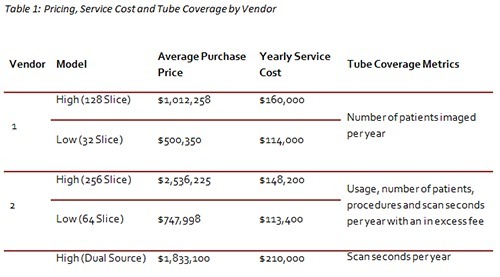 Most Service Contracts Are Customizable
Vendors may not offer this option at first, but you should always ask. This option allows a facility to choose the service type and coverage, uptime guarantee, hours, etc., according to its specific caseload or patient volume. These contracts can include transitional Coverage from full service and in-house support throughout the contract term if needed. Choosing a service contract also depends on the amount of risk you are willing to take.
Slice Count
As a general rule, CT scanners with a higher slice count require more service coverage. This is reflected in Table 2, in which service contract price ranges are broken down by slice count.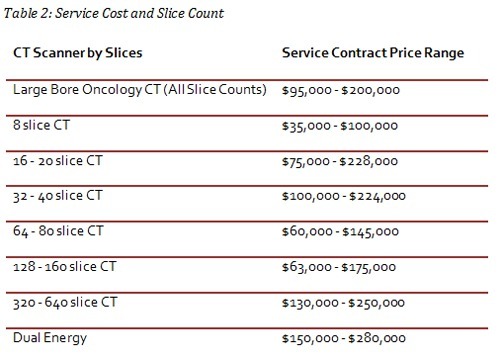 What Parts Need Coverage?
Tube coverage is almost always recommended if the system has high volume and stroke and/or cardiac programs. Even if the tube is covered with a specific number of slice counts, rotations, scan-seconds and/or the number of patients, there may be a per use or in-excess, "debit" fee-associated charge.
Other optional items to consider including in the contract coverage are peripherals (advanced 3D visualization solutions, portal server(s), UPS, injectors, etc.), which are often third-party devices. Coverage for these items is best handled under the OEM contract.
Coverage Hours
Typically, the full-service contracts that are recommended for CT scanners include extended hours for considerably high volume (Monday to Friday, 8 a.m. to 9 p.m.) or routine hours for lower volumes (Monday to Friday, 8 a.m. to 5 p.m.). The hours of 5 p.m. to 9 p.m. are generally for scheduled PMs.