by
Sean Ruck
, Contributing Editor | March 21, 2016
From the March 2016 issue of HealthCare Business News magazine
Long-Length DR Detector
FUJIFILM Medical Systems U.S.A., Inc. recently introduced the all new FDR D-EVO GL DR detector for single exposure long-length digital imaging. The FDR D-EVO GL features a 17" x 49" field of view. The longer length means time saved versus systems requiring stitching. It also reduces the number of exposures. The FDR D-EVO GL complements its single-exposure acquisition with ISS technology and noise reduction circuitry to contribute to producing clear, sharp images.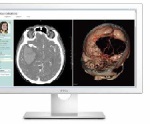 Medical Review Monitor
Dell has introduced the Dell Medical Review 24 Monitor (MR2416), the company's first monitor purpose-built for the health care environment. The monitor features an anti-reflective edge-to-edge covered glass on the front, and a smooth, fully-sealed design that is IP-32 rated. The monitor is calibrated to the DICOM part 14 standard grayscale. It features 24 inches of diagonal viewing area with 1920 x 1200 resolution (16:10 aspect ratio). While reviewing or sharing images with patients, health care professionals can switch the monitor's orientation between landscape and portrait and adjust height, tilt, pivot or swivel the monitor up to 60 degrees left and right with consistent 178-degree-by- 178-degree viewability from almost any angle for easy screen sharing. The device has also been designed to meet the IEC 60601-1 standard for medical design and safety requirements.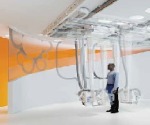 Twin Robotic X-ray System
Siemens Healthcare has announced that the FDA has cleared the Multitom Rax (Robotic Advanced X-ray). The world's first Twin Robotic X-ray system, the Multitom Rax boasts a unique design that enables, for the first time, the acquisition of 3-D natural weight-bearing images. The unique open design of the Multitom Rax Twin Robotic X-ray system features a height-adjustable patient table and two independent, ceiling-mounted robotic arms for the X-ray tube head and the flat-panel detector for almost unlimited positioning freedom anywhere in the room. Both robotic arms can be moved into position automatically or manually with servo motor support to make fine adjustments. While one robotic arm moves the X-ray tube, the other arm carries the 17" x 17" flat panel detector, which can acquire static, dynamic and real 3-D sequences.