From the June 2017 issue of HealthCare Business News magazine
SPECT and SPECT/CT manufacturers are constantly working to improve the offerings available in the marketplace. The products appearing on the following pages represent some of the best innovations available. Look for the companies in this space to continue rolling out enhancements that will improve patient experience and outcomes.

Quality remanufactured Certified Centrifuges at Great prices! Fully warranted and backed by a company you can trust! Call or click for a free quote today! www.Centrifugestore.com 800-457-7576

DDD Diagnostic
CorCam
Optimized for quick and seamless myocardial perfusion imaging. Highly reliable and well-proven gamma camera. Truly open gantry allows for greater patient comfort. Integrates with hospital infrastructure, DICOM modality work list. Like the other camera systems from DDD Diagnostic A/S, CorCam has been designed as a workhorse camera for nuclear cardiology imaging procedures.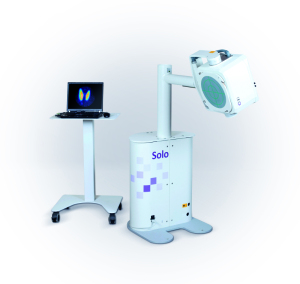 DDD Diagnostic
Solo/SoloMobile
Solo, a versatile, cost-efficient and compact gamma camera designed for hospital use, outpatient clinics and private clinics. Low-profile detector positioned to perform planar procedures, imaging of the thyroid gland, parathyroid, multigated cardiac and sentinel node. Requires minimal space and offers unobstructed access between detector and patient. Easily mounted on the floor. SoloMobile can be moved in patient rooms for bedside imaging.
DDD Diagnostic
QuantumCam
The QuantumCam from DDD Diagnostic is a general-purpose nuclear medicine camera with minimal room size requirements, fitting in rooms as small as 10'x10'. In fact, no other SPECT system in the market has such a small footprint and full flexibility in detector positioning, offering versatile use for whole-body, SPECT, cardiac SPECT and planar imaging procedures. QuantumCam's patient-focused open design provides ultimate comfort, especially for those with claustrophobia.
Digirad
Ergo Imaging System
Digirad's Ergo Imaging System is the only solid-state, large field-of-view (LFOV), portable general-purpose gamma camera available in the market. The single-head gamma camera is compact, lightweight and designed to offer maximum clinical versatility and flexibility for performing nuclear medicine studies (planar, gated and dynamic) in a variety of hospital settings (general nuclear medicine department, ICU, CCU, ER, OR, pediatrics, trauma units, patient floors, ambulatory services, women's health), imaging centers and outpatient service centers.