From the March 2020 issue of HealthCare Business News magazine
Bad Fiber Optic Cable (Spectris Solaris):
If the complaint is that "the injector head is not being recognized by the display" and the battery is not to blame, then this would be the cause. The fiber optic cable is the only means of communication between the injector head and the display. Lying on the floor it can get walked on, rolled on, kicked and yanked. The fiber optic cables have two connectors on each end; one end plugs into the display, the other end plugs into the base of the pedestal. There is a TX (transmit) connector and an RX (receive) connector. If you have disconnected the fiber optic cables and then reconnected them and the system doesn't work, you probably reinstalled the cables the wrong way; the TX at one end goes into the RX at the other end.
PPI Memory Compare Error (ProVis/Mark V Plus):
PPI stands for Pre-Programmed Injection. This board stores the protocols the operators keep in the system's memory as well as the injector's configuration setup. This board is powered by a 3-volt battery that lasts about 10 years. When this battery gets below 2.6 volts, you start getting a "PPI Memory Compare" error. Rather than replace the entire board for about $1000 simply de-solder the old battery and solder the replacement battery (roughly $10) in its place.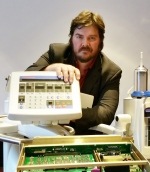 "Injector Not Injecting" (ProVis/Mark V Plus): The ProVis/Mark V Plus system can inject at three different flow rate settings: ml/sec, ml/min and ml/hour. 99.999999% of the time they use ml/sec but it is relatively simple to "accidentally" switch the flow rate mode to ml/min without realizing it. That flow rate is so slow that it can seem like the injector is not injecting at all. They press the start switch and nothing appears to be happening because the injection is so slow (if an error message came up, that would be a different issue). Obvious solution: ask them to make sure they are still shooting in ml/sec.
Back to HCB News