by
John R. Fischer
, Senior Reporter | April 12, 2021
From the April 2021 issue of HealthCare Business News magazine
From valve replacements to coronary low-risk angioplasty, catheterization labs have become the center of many minimally invasive procedures for the heart.
Once just the room where heart trouble was diagnosed, cath labs of today see a larger range of patients, with the complexity of their conditions only rising. Dr. Zagum Bhatti, a vascular and interventional radiologist at Modern Vascular, which operates a number of these sites in the U.S., told HCB News, that patients prefer when the cath lab is in outpatient settings or ambulatory surgical centers (ASC) versus the hospital.
"You can now undergo a cutting-edge, minimally invasive endovascular procedure in an outpatient lab and be able to go home to recover and be with your family the same day," he said, adding that "more importantly, they are not exposed to other illnesses that are present in a hospital setting."
Further, the continuing COVID-19 pandemic makes patients even more inclined to seek care outside of the hospital, out of fear of contracting the virus. It is changes like these that are forcing cardiologists and radiologists to question what role the cath lab will play in the future.
A one-stop shop
The original cath lab, 30-40 years ago, diagnosed disease and referred patients to open heart surgeries that were followed by a month-long recovery. Today, percutaneous coronary intervention, innovations like TAVR (transcatheter aortic valve replacement), mitral valve clips, atherectomy for calcification and more recently, intravascular lithotripsy, have expanded treatment options for complex coronary, valvular and structural heart diseases in the lab itself.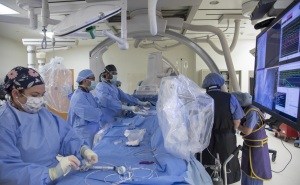 "The equipment has become smaller, lower profile, and easier to use," said Dr. Anna Bortnick, attending interventional cardiologist and program director of the interventional cardiology fellowship at Montefiore Health System. "Image guidance in coronary arteries using live intravascular ultrasound or optical coherence tomography (OCT), CT scans and echocardiography for preplanning of valve procedures, allows interventional cardiologists to integrate more detailed information in their treatment plan for patients. The goal is to achieve better results and discharge patients home with faster recovery."