Dunlee's additive manufacturing printer park has reached a significant milestone, doubling its capacity within a single year. The park is now in operation 24/7, producing more than 100,000 parts per year. With its increased capacity, Dunlee's printer park is the world's largest additive manufacturing printer park dedicated solely to tungsten printing.
"After a challenging and exciting 2020 and first half of 2021, we saw increased demand, so the 3D printing team set ambitious targets," said Jan Philippe Grage, Product and Development Manager for Dunlee. "We have already met those targets, and now we are setting our sights on continued growth."
Dunlee co-develops with customers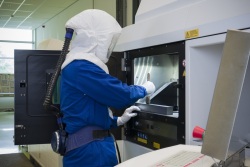 Repeat orders by satisfied customers who appreciate the value of Dunlee's development mindset and vigorous quality control processes are one aspect of Dunlee's growth. New customers who are discovering the advantages of 3D-printed tungsten parts are also adding to the demand. "Tungsten is able to withstand high temperatures and form complex shapes, which make it well-suited for a variety of applications," Grage says. " We're always looking for new customers who want to explore how 3D printing can help them manufacture quality products and meet production goals."
The printer park uses state-of-the-art printers manufactured by EOS, a global technology leader for industrial 3D printing of metals and polymers.
About Dunlee
Dunlee has over 100 years experience in developing, producing and integrating innovative components for imaging systems. Serving both the OEM and replacement markets, Dunlee offers a comprehensive portfolio of reliable product packages for CT and MRI, X-ray tubes, and high-voltage generators, as well as solutions for interventional radiology, and nuclear medicine. It offers support during development and throughout the product lifecycle, contributing to its customers' efficient production and go-to-market strategies. For more information please contact Dunlee at sales.dunlee@philips.com