New Master's Degree for Nuke Med Techs
by
Brendon Nafziger
, DOTmed News Associate Editor | September 28, 2009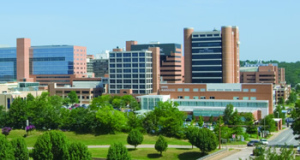 Nuclear medicine technologists have a new education option this fall: a master's degree.

The Society of Nuclear Medicine, in affiliation with a consortium of three universities -- the University of Arkansas for Medical Sciences in Little Rock, Ark.; Saint Louis University in St. Louis, Mo.; and the University of Missouri-Columbia in Columbia, Mo., is offering a new master's program, called Nuclear Medicine Advanced Associate (NNMA).

"[NNMAs] will be able to do things not currently in the scope of practice [of techs] because of their additional training," Mark Wallenmeyer, chair of the NNMA committee and a professor at University of Arkansas for Medical Sciences, tells DOTmed News.

According to Wallenmeyer, NNMAs will be able to take patient histories and physicals related to treatment; perform and monitor stress tests; and do palpations, such as for thyroids. What's more, they'll be able to give so-called reading physicians first impressions from tests, known as "wet reads" -- something most techs aren't allowed to do now.

The 5-semester program is only offered online: students listen to lectures through conference calls on their computers.

Enrollment is rolling, and students can start in the spring, summer or fall. Six students joined up for its inaugural semester, says Wallenmeyer.

Recognizing NNMAs

Although the program is fully accredited, Wallenmeyer says he's in talks with government agencies and accrediting bodies to make sure NNMA graduates are able to work at the level they're educated for at hospitals or clinics, which he expects to be along the lines of a radiologist's or physician's assistant.

He says states that currently recognize NNMAs include South Carolina, Missouri, Georgia, Illinois and California.

"All the states will have to recognize this as well, because like we've said, there's nobody out there working like this right now," he says.