Medical Imaging Holdings, Inc. Becomes Unisyn Medical Technologies, Inc.
by
Brendon Nafziger
, DOTmed News Associate Editor | November 24, 2009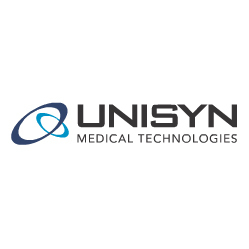 After scooping up three leading service companies, Medical Imaging Holdings, Inc. has changed its name to Unisyn Medical Technologies, Inc., the Golden, Colo.-based company announced (DM 10800).

"The name speaks to the unification of three independent companies, but more importantly, and what was most compelling to us, it speaks directly to our desire to come into full alignment with our customers," Jeff Soinski, CEO of Unisyn, tells DOTmed News.

Unisyn, owned by private equity firm Galen Partners, based in Stamford, Conn., was born of the acquisition of Barrington Medical Imaging, Sonora Medical Systems and Echoserve -- all picked up over the last two months.

The name, Soinski believes, reflects the business' new focus and strengths.

"We also incorporate the words 'Medical Technologies,'" he continues. "It wasn't just because 'Medical Technologies' sounds good. We truly do have a technical underpinning."

Lifecycle solutions

Much of that technical underpinning comes from Sonora, a quality assurance company with proprietary tools for testing equipment, and one-third of the "total lifecycle solution" strategy Unisyn is pursuing, where each purchase fits into place to allow Unisyn to become a one-stop shop for all imaging needs.

"We work across multiple modalities and multiple platforms," Soinski says. "Echoserve was focused primarily on ultrasound and mammography. Barrington on CT and MRI. By putting them together, we cross four modalities," he says. "We do site planning, installing, everything involved with getting a new refurbished medical imaging asset into a facility. Through our field service organizations, it gives us a nationwide footprint with regional pockets of focus," he adds.

So is Unisyn complete? Soinski is still leaving the door open for further acquisitions, but he says currently they're concentrating their energies on consolidation. "We're focused right now on integrating and pulling these companies together," he says. "We will continue to look at other acquisition opportunities, but we don't have a set timetable, or pressure to do that."