At this year's Society of Nuclear Medicine meeting, DOTmed News interviewed MIMvista President Dennis Nelson and CTO Mark Cain.
Nelson talked about tracking tumor response by using functional imaging to spot early changes in order to modify therapy. Cain described their cloud image sharing services to allow clinicians to view scans globally on a secure platform.
Get the Flash Player to see this video.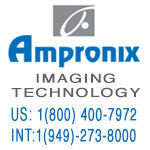 Special-Pricing Available on Medical Displays, Patient Monitors, Recorders, Printers, Media, Ultrasound Machines, and Cameras.This includes Top Brands such as SONY, BARCO, NDS, NEC, LG, EDAN, EIZO, ELO, FSN, PANASONIC, MITSUBISHI, OLYMPUS, & WIDE.

Stay tuned to DOTmed News for more video reports from the major conferences.