by
Brendon Nafziger
, DOTmed News Associate Editor | September 29, 2011
Lantheus Medical Imaging Inc. said Wednesday it promoted Cyrille Villeneuve to chief commercial officer and Dr. Dana Washburn to chief medical officer.
Villeneuve, previously vice president and general manager, international, will now direct the N. Billerica, Mass.-based radiopharmaceutical company's global commercial strategy. Vileneuve has been with Lantheus since 1985, when it was still owned by E.I. du Pont de Nemours and Company, and before its sale to Bristol-Myers Squibb Company and later purchase by Avista Capital Partners.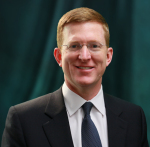 Washburn joined Lantheus
last year
as vice president, clinical development and medical affairs. Don Kiepert, Lantheus' president and CEO, said he made a big impact on the company's
flurpiridaz F-18 radiotracer research
, which began phase III clinical trials in June.

For those who need to move fast and expand clinical capabilities -- and would love new equipment -- the uCT 550 Advance offers a new fully configured 80-slice CT in up to 2 weeks with routine maintenance and parts and Software Upgrades for Life™ included.

"His deep industry experience and work as a practicing nuclear cardiologist make him ideal for our new position of chief medical officer," Kiepert said in a statement.