Hospitalists - A Growing Specialty - Improve Patient Care
by
Michael Johns
, Project Manager | June 20, 2006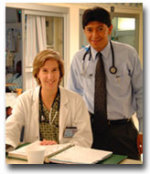 As reported on MSNBC.com, by Ed Green from Business First of Louisville:

Ask Dr. Glenn Gabbard what distinguishes him from other physicians at Baptist Hospital East or other local health care facilities, and he will say that he doesn't feel rushed -- something he could not have said four years ago.

For the past three-and-a-half years, Gabbard has been a member of a growing specialty in medicine known as hospitalists. As a result, he's been able to give up the daily grind that for many physicians means long, unpredictable hours with dozens of patients at the office, along with visits to the hospital to check on more patients.

For Gabbard, 36, that often meant working early mornings, late nights and some weekends to make sure he was taking enough time to guide the care of his patients.

"I don't like to be hurried. ... For me, it was a lifestyle issue," he said, describing his decision to give up his family practice and join Nikorb Medical Services LLC to work full-time with patients in hospitals.

"I had a private practice for four years, and I never saw my family," he said.

Nikorb is a Louisville physicians practice with nine doctors who see patients at Baptist Hospital East or Norton Suburban Hospital for more than 100 traditional physician practices.

The Nikorb group receives referrals from the primary-care physicians and other family practitioners to follow the care of patients while they are in a hospital and receives payments from insurance companies or government agencies for coordinating the patients' care.

Generally, primary-care physicians choose to work with individual hospitalists or practices so they do not need to visit patients at the hospital. In some cases, patients admitted through a hospital emergency room are assigned a hospitalist to follow their care if they do not have a primary-care physician who will visit the hospital.

In a best-case scenario, a patient's primary-care physician explains in advance that the patient will be seen by a hospital-based physician, Gabbard said.

But in some cases, patients are surprised that they will not be seen by their regular physician. In the latter case, Gabbard explains the hospitalist process to the patient on the first day of his or her stay.

Dr. Hoangmai Pham, a senior health researcher for the Center for Studying Health System Change in Washington, D.C., who has studied the national trend toward using hospitalists, said some early studies showed that patients did not like having hospitalists treat them, especially if they were unfamiliar with the concept.