Univeristy Hospital - Quality Radiology equipment for Training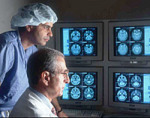 Radiology opportunities at The University Hospital
The University Hospital Department of Radiology is a large contemporary imaging facility that performs approximately 200,000 examinations a year. The Department has a Radiology Residency program and is the clinical site for the University of Cincinnati 's two-year Associate Degree program in Radiologic Technology. There are post-graduate fellowships for both physicians and technologists in the specialty areas. The Department currently employs approximately 80 technologists who staff imaging operations in both the main x-ray department and the numerous satellite operations. The Department of Radiology has the following specialized equipment as well as a wide variety of general imaging equipment to supplement it.

Imaging Equipment
Computed Tomography
1 General Electric Multi-Slice, Light Speed, Scanner
1 General Electric Helical Advantage C.T. Scanner
1 Picker PQ 6000 Helical C.T. Scanner

Magnetic Resonance Imaging
1 General Electric Signa Level 5 Scanner (1.5 Tesla Super-conductive)
2 General Electric LXI (1.5 Tesla Super-conductive, short bore)
1 Hitachi Open Operative/Interventional Magnet (0.3 Tesla Permanent, Open)

Ultrasound
2 ATL 5000 Ultrasound Units
2 ATL 3000 Ultrasound Units
1 ATL Ultramark 9 Ultrasound Unit
2 Toshiba Ultrasound Units (1 intraoperative unit and one unit on a mobile service)

Angiography Equipment
1 Siemens Neurostar (biplane neuro- diagnostic unit)
1 Philips Integris Vascular Lab (single plane body imaging unit)
1 Philips ARC-U 14 (single plane body imaging unit)
4 Toshiba Cardiac Cath Units

Miscellaneous Equipment
2 Radiographic and Fluoroscopic Units
6 Radiographic Units
1 Dedicated Chest Unit
6 Dedicated Mammography Units including Digital Mammography and Stereotactic biopsy unit.

The Department of Radiology operates on an organ-based diagnostic operation divided into the following sub-divisions:

Neuroradiology
Body Imaging
Musculoskeletal Imaging
Mammographic Imaging
Vascular Imaging

The University Hospital Department of Radiology is one of the few medical centers with an advanced Computed Radiography, Image Transmission and Picture Archiving and Communication System (PACS) in place. All portable radiography, emergency department, C.T., M.R. and other applications are included in this system. Many of our studies are read without producing film. Images are sent to the patient units for viewing and to the radiologists for interpretation immediately after processing. Recently, we have added image transmission to The Neurosciences Institute located in our Medical Arts Building .