by
Nancy Ryerson
, Staff Writer | August 26, 2013
From the August 2013 issue of HealthCare Business News magazine
"There are no parameters for this kind of device now, but the EPA is starting to raise its eyebrows," says Jim Dacek, senior market development manager at STERIS. "We thought, why not get ahead?"
Vapor power
Another high-tech disinfection option utilizes hydrogen peroxide vapor. It disinfects by dispersing a bleaching agent into the air that kills bacteria. A study published in January by Johns Hopkins University found that patients in a room cleaned using HP vapor disinfection were 64 percent less likely to develop multi-drug resistant infections.
When the NIH Clinical Center experienced a cluster of CRE infections in 2011, the hospital used HP vapor to disinfect equipment and rooms that had been used for patients colonized with CRE and other multidrug resistant bacteria, like acinetobacter.
"Although we did not study its effectiveness in preventing transmission in our facility, hydrogen peroxide vapor was part of a strategy that successfully controlled CRE transmission in our hospital," writes Tara Palmore, deputy hospital epidemiologist at the NIH Clinical Center, in an e-mail to DOTmed Business News.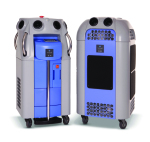 HP vapor systems are more challenging to use, as they require rooms to be sealed when the machines are in use because the vapor is considered hazardous. Disinfection generally takes one to one and a half hours. Bioquell, a HP vapor disinfection company, offers a variety of plans that can help hospitals adjust to the schedule.
"A number of different models are available, ranging from a hospital owning and operating a Q-10 themselves to a full service, where Bioquell provides the equipment, personnel and all consumables," says Jon Otter, scientific director, health care, at Bioquell.
While Frost & Sullivan does not have data on the number of hospitals that have invested in HP vapor systems, Whelan says he believes numbers "would be lower because there are fewer companies in that space and a lot more limitations with that technology, i.e. the need to close off air vents and better seal the room."
Machines can't do it all
Studies so far support the efficacy of new technology, though one recent article in the Journal of Epidemiology concluded that, "Although 'no touch' room decontamination systems might aid in reducing/eliminating environmental contamination after terminal room disinfection, we still need to develop new practices or technologies to improve the thoroughness of daily room cleaning (e.g., tinted germicides that color surfaces when applied, but the color disappears once it dries)."